Travel abroad without leaving San Diego's borders
San Diego is great to explore in many perspectives, but the vast quantity of internationally-inspired restaurants across the city make it an especially eclectic and fun city to live in.
From the Mexican taco stands around the corner where you pick up your favorite burritos to the sit-down restaurants in Little Italy where hills of beautifully dressed pasta dishes are served, San Diego is no stranger to food from around the world.
Dishes may have varying degrees of authenticity, but at least San Diegan taste buds will never die of boredom.
Zensei Sushi (Japanese)
Everyone who enjoys sushi in San Diego is sure to have their favorite local spot, but if you have yet to venture to the stopping grounds between the South and North Park neighborhoods, then the place to go is Zensei Sushi, located at 3396 30th St.
Funky art is in place of pictures of cherry blossoms on the walls, and the airwaves throughout the restaurant are filled with reggae, not Japanese folk music. Don't let the laid back vibe deter you, however, as this contemporary sushi spot is up to par with its more traditional counterparts when it comes to its flavorful, quality fish.
Glancing over the menu, you might find some traditional menu favorites, but the ones that stand out are beautifully orchestrated and cannot be found anywhere else.
Though the miso soup and steamed edamame are classic starts to a meal of sushi, the firecrackers – crab-stuffed jalapenos – are a sure fire way to amp up the appetizer course. Their light and crispy tempura batter crust combines Southern Californian spice with a Japanese cuisine notion.
Another option for those who adore tempura but can't handle the heat of peppers lies in the tempura-battered Avocado wedges. Delightfully crisped on the outside with their creamy, smooth filling and a side of ponzu dipping sauce, this is one of those dishes that smacks one in the face and reminds the diner that they live in the Golden State.
Shrimp tempura? Check. Mango salsa? Check. Yes, Zensei's house-made mango salsa completes their signature tropical roll along with avocado, crab, cucumber and seared albacore tuna. It is unique, colorful and dangerously addictive.
Want to add a little zest into your life? Try the dream roll, filled with a mixture of spicy tuna, yellow tail and crab, then finished with thin slices of perky lemon atop a layer of either seared ahi (red roll) or the pearl white tuna (white roll).
A dessert "roll" is even a viable option at Zensei, sans the rice and roasted nori. The tempura-fried banana topped with the rich decadence of strawberries, caramel and chocolate sauce is a twist on the banana split that you can't pass up.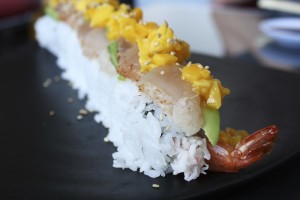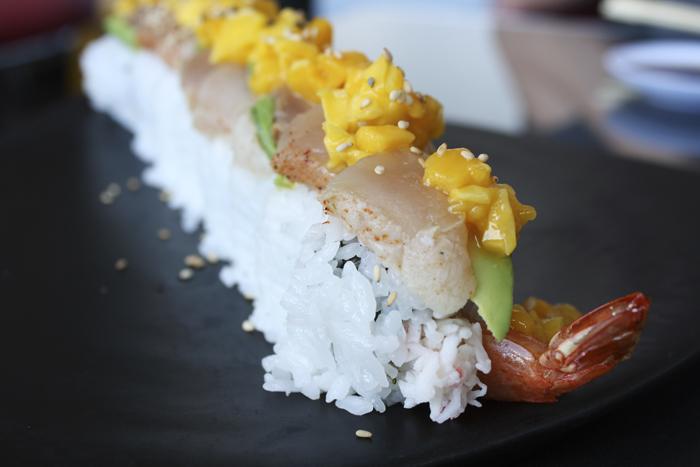 The Mission (Mexican and Asian Inspired)
The Mission – with three locations in North Park at 2801 University Ave., in Mission Beach at 3795 Mission Blvd. and in East Village at 1250 J St. – is home to a creative fusion of breakfast dishes that cross international boundaries.
This blend of Asian and Mexican cuisine will wake up even the sleepiest patrons for breakfast by exciting the taste buds and throwing off your body's blood to caffeine ratio with their specialty coffee drinks.
The papas locos has a kick of spice from the sautéed jalapeno slices, but fills you up with the crispy potatoes and black beans. A bit of avocado and a dollop of sour cream complete this breakfast dish, and when folded into a flour or whole wheat tortilla it will satiate your hunger to the nth degree.
Typical chorizo sausage can be oversaturated with fat, but the soy chorizo at The Mission lends itself well to a variety of menu items. Either paired with potatoes in the papas con chorizo or folded into a burrito, you can get a full-flavored sausage dish without the moral implications of eating meat.
Some of The Mission's menu items also draw from Asian-food culture, to include the delicious ginger sesame wrap. Crispy noodles, grilled chicken, vegetables and a touch of peanut sauce are the highlights of this lunchtime favorite.
Besides the array of ethnic-inspired dishes, The Mission also has some sweeter mainstream breakfast items such as the blackberry banana pancakes and the French toast made from their fresh, house-baked cinnamon bread.
Is the food at The Mission necessarily authentic Mexican or Asian fare? Of course not, but it is one of the hippest spots to grab lunch or breakfast in San Diego and is always sure to satisfy.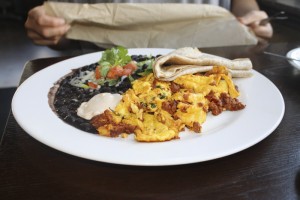 Pomegranate (Russian and Georgian)
For a little traditional Eastern European cuisine from the nations of Russia and Georgia, Pomegranate – located near Texas St. at 2312 El Cajon Blvd – is a must-try spot for some unique cuisine that is true to its traditional culture.
The mismatched tables and chair sets, old pianos, table lamps and customers' thoughts on the walls add charm to this little-known restaurant's ambiance. Sit back, listen to some jazz music and enjoy a bottle of Georgian sweet red wine while you wait for your dinner.
The menu is inspired by the recipes of the owner's Slovakian-born "babushka" or grandmother, who as stated on the restaurant's website was a "culinary opportunist and explorer." Her life's travels took her through Romania, Serbia and elsewhere throughout the Balkans, and this shows in the subtle diversity between dishes.
One of the fan favorites is the borscht, served hot and available both with meat and sour cream or vegan-style without. This hearty soup of beets, potatoes and cabbage is earthy, well-balanced and it serves as the perfect way to warm up on a chilly, December night.
Oftentimes in America, dumplings are thought of as being whipped up from a box of Bisquick and thrown into a pot of canned soup: this idea could not be further from filled-pasta wonders from Eastern Europe. Whether you try the meat -filled pelmeni or the potato and cheese-filled vareniki with caramelized onions, handmade dumplings are the best example of Russian comfort food.
Stroganoff is probably one of Russia's better known culinary exports, and at Pomegranate the dish is available both in its traditional beef form as well as in an updated vegetarian version.
Some of the menu items borrow from other cultures as well. Indian baba ganoush and Ukrainian mushroom soup and Turkish coffee grace the list of selections, as well as a rib dish that they refer to as Transylvanian soul food.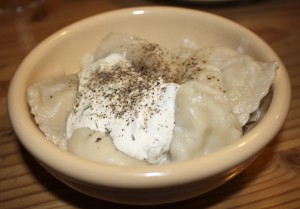 Buon Appetito (Italian)
It may seem to be a no-brainer to drift into Little Italy to partake in a bite of Italian food, but there are so many options that it may be hard to find the gem that is Buon Appetito, located at 1609 India St.
From the brick wall to the rotating collection of artwork indoors, the restaurant's ambience balances an upscale aesthetic and utility well. When camped out on the patio, the friendly residents of the neighborhood pass by, conversing with one another in a medley of Italian dialects.
Though the culture is one of the main draws to Buon Appetito, the main purposes of going there is to indulge in the unanimously preferred pastime of many Italians: eating.
Begin with a little minestrone soup or the caprese salad as well-known and beloved classic antipasti, but dive into the burrata salad and Carpaccio special of the day if you're feeling a little feisty.
Though it is possible to avoid carbs in the form of pasta when dining at an Italian restaurant, what's the fun in that?
The question, of course, is not whether or not to order pasta, but instead lies in picking one from the many tempting dishes on the list.
The farfalle pasta with thick chunks of salmon in its rich vodka sauce with leeks is practically an instance of debauchery in how seductively it dances across the palate.
After such an intense dish, the amateur gourmand may retreat home in a food coma, but the professional will find their ultimate solace in touring Buon Appetito's adjoining market. Imported pastas, sauces and authentic ingredients line the shelves in this tiny, quaint shop.
If you want to make the special kid or person in your life feel loved, then bring a bag of chocolate Bacio home with you – the equivalent to America's Hershey's Kiss adorned with a whole hazelnut. They are so delightful that no one will blame you if that "special person" that they're being saved for turns out to be yourself.