Grass-fed beef nourishes well-fed humans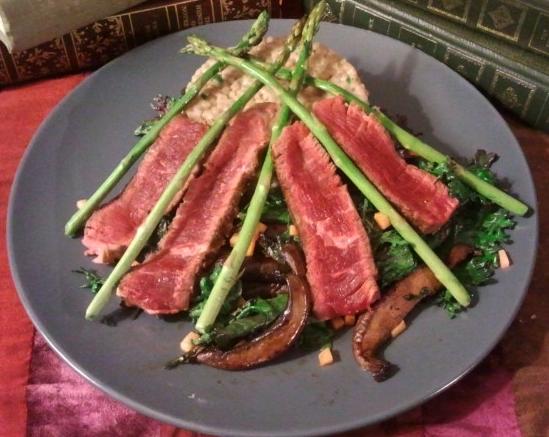 Scouring the farmers markets of San Diego often brings one to explore new unprecedented food options, and now more locally-farmed protein choices are available to help bridge the gap between our meals and the farms on which they originated.
Some vegetarians will maintain that meat consumption is absolutely unsustainable, but with local small ranches popping up in opposition to dirty factory farms, being "green-friendly" no longer means that you can't be an ethically sound omnivore.
Sadly enough, today's commercial farms do not fit the picturesque image that comes to mind while cheerily singing along to "Old McDonald." Instead, most of the nation's food comes from CAFOs – Confined Animal Feeding Operations – where animals are kept in tightly enclosed and unsanitary conditions as they are fattened up and readied for slaughter.
Fortunately, a push for greater "farm to plate" knowledge – or knowing exactly where one's food comes from – has led to an increase in the availability of what is known as "grass-fed" beef.
Technically, all cattle are grass-fed for at least a limited amount of time, but what makes this category of meat significant is that it is grass-finished, not force-fed corn, soy or grains. This change in diet makes all the difference since corn is not part of the cow's traditional diet, and therefore causes major health issues for it.
The result is a need to use antibiotics along with growth hormones that contaminate the human food supply. Some of the antibiotics used to treat livestock are similar to those given to humans, so they can decrease the effectiveness of medicine when a consumer is sick, according to Eatwild.com.
A healthier diet for the cattle leads this alternative to factory farmed meat to be leaner, therefore being lower in both fat and calories. Omega-3s are higher in grass-fed beef, and it can have up to four times more vitamin E, according to Americangrassfedbeef.com.
When cooking grass-fed beef, you can grill or pan sear it the same way you would for its conventional counterpart, but it is typically best to use a slightly lower temperature.
Grass-fed beef stars in this recipe alongside the underappreciated, but abundantly delicious, baby purple kale and whole wheat Israeli couscous, making it a well-balanced meal. Depending on the amount of meat each diner prefers, one filet steak can be cooked per person, or a single filet can be divided to minimize red meat consumption.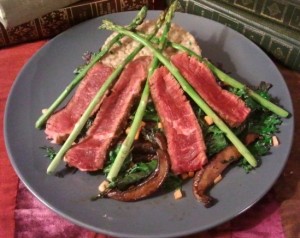 Recipe: Greens and Grass-fed Beef
Serves 2
1 cup whole wheat pearl couscous
1/4 cup green onions (Kawano Farms)
1/2 cup Parmesan cheese
2 portobello mushroom caps, sliced (Kawano Farms)
1/4 cup Pinot Noir
2 cups baby purple kale (Sage Mountain Farm)
12 asparagus stalks (Valley Heights Ranch)
1-2 filet steak (SonRise Ranch)
1 small carrot, peeled and diced (Suzie's Farm)
3 teaspoons extra virgin olive oil, divided
Bruschetta sea salt, to taste (Salt Farm)
Fresh ground black pepper, to taste
In a small sauce pot, bring two cups of water to a boil, then add one teaspoon of extra virgin olive oil, couscous and simmer until cooked to al dente. Once water has evaporated, fold in the green onions and parmesan cheese – season with bruschetta sea salt and black pepper – before packing the mixture into two small ramekins and setting aside.
Using a small sauté pan, heat one teaspoon of extra virgin olive oil and cook sliced Portobello mushrooms until softened, then add pinot noir to the pan. After the mushrooms are cooked through, add kale to the pan and season with half a teaspoon of both the bruschetta sea salt and black pepper.
Lightly steam or sauté asparagus, then set aside.
Rinse steak, pat dry and sprinkle with bruschetta sea salt and black pepper on both sides – brush grill or sauté pan with remaining olive oil to prevent it from sticking. Grill or sauté steak to desired temperature, then layer couscous, kale mixture, asparagus and steak on plate, then garnish with raw, diced carrots before serving hot.                          –Lauren J. Mapp