Vibrant foods can erase the winter blahs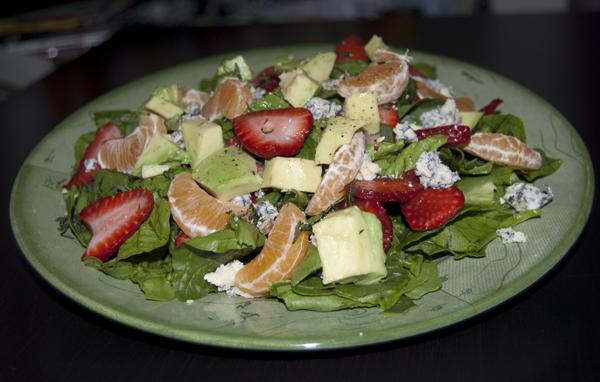 As winter – if you can even call it that in San Diego – drags on, it's easy to start to feel a little depressed, but adding farm-fresh berries and citrus into your diet can help to kick the sadness and get you pepped up for spring.
Just looking at the vibrant red color in strawberries, raspberries and cranberries can lift your mood, but the nutrients present in berries are also great for one's physical and emotional health.
Berries are high in anthocyanin, vitamin C and quercetin antioxidants making them great additives to one's diet to prevent cancer, reduce inflammation and slow age-related memory loss, according to JoyBauer.com. The nutrients in berries also help to reduce both blood pressure and cholesterol levels.
Some other health benefits of strawberries include a stronger immune system and they can decrease depression and stress, according to Healthandrelation.com.
Strawberries and raspberries are also considered by some to be aphrodisiacs, another beneficial side effect of regularly consuming them.
With a combination of the bright citrus flavors of clementines and limes with the creamy and pungent taste of blue cheese, lying atop a bed of spinach with early spring strawberries, this salad provides a fresh alternative to the heavy meals of winter.
By using the citrus juice as the basis of the dressing in this salad it enables you to decrease the use of oil needed to make a flavorful dressing, so the indulging in blue cheese can be a relatively guiltless delight.
Served with a glass of white wine sangria, a strawberry-mint mojito or alcohol-free strawberry lemonade, this salad will convince you that summer is already here.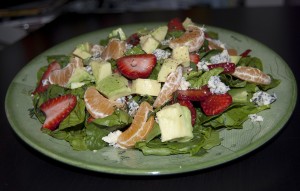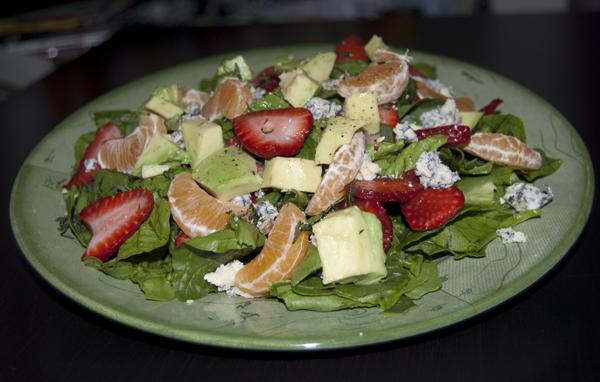 Recipe: True Blue Strawberry Citrus Salad
Serves 2
1 avocado (Paradise Valley Ranch)
10 strawberries (JR Organics)
4 cups spinach (JR Organics)
2 tablespoons dill (Suzie's Farm)
2 green onions (Kawano Farms)
2 clementines, peeled (Polito Family Farms)
1/4 cup Flora Nelle blue cheese (TasteCheese)
Juice of 1 lime (Schaner Family Farms)
Extra virgin olive oil, if desired
Ginger sesame salt, to taste (Salt Farm)
Freshly ground black pepper, to taste
Toss roughly chopped spinach leaves with green onions and dill and divide into two portions.
Top spinach bed with sliced strawberries, diced avocado, crumbled blue cheese and clementine segments.
Squeeze lime juice over the salad and drizzle with olive oil if desired. Season with salt and pepper and serve chilled.
–Recipe by Lauren J. Mapp