New art exhibit lures people in
"Lure," the most recent art display at the on-campus Mesa College Art Gallery, is a varied collection of pieces composed of several different mediums. With the exhibit titled "Lure: all is not what it seems," one can only wonder what type of art the gallery consists of.
Over 20 artists were asked what seduction meant to them, in turn creating the exhibit's theme. Pieces in the gallery ranged from combinations of paper and plants to intricate layers upon layers of Plexiglas. Everyone can enjoy the amount of effort and time that went into most, if not all of these works even if they are not the art-connoisseur type.
The cover piece of the gallery is Miri Chais' "Rabbit Hole." This is one of the two artists' detailed Plexiglas, Radiant Sheet and LED light pieces in the exhibit. Between the use of vivid colors and illumination, this piece is hard to miss. In her work's description, Chais describes how her pieces are where the real world and the virtual world meet and morph into one. Even though the artwork is up for interpretation, one can see the presence of a downward spiral to another world, similar to the famous rabbit hole in Walt Disney's "Alice in Wonderland."
Other works that grabbed people's attention were Curtis Bracher's "Banquet," a collection of LCD prism screens with ink drawn scenes on the surface; Savannah Jarman's "Sansevieria," a work depicting how humans and plants are closely related to each other; and Perry Vasquez's "The Gates of Heck," his personal version of Auguste Rodin's "The Gates of Hell."  In his painting's description, Vasquez explains that instead of using the characters from "Dante's Inferno" like Rodin, he used comic book super heroes and iconic cultural figures. As a viewer, it is entertaining to point out all the recognizable faces in this vivid and intricate painting. Even though this painting can be considered somewhat satirical, it is meant to reflect the artist's view on the nature of the human condition.
One display that the tech-savvy may find intriguing is Dave Ghilarducci's "Procrastination." It is an electronic box composed of extruded aluminum and acrylic, with a screen that displays an inspirational message every time someone pushes the big blue button on its top side. The messages include, "Either you run the day or the day runs you," "The true sign of intelligence is imagination" and many others.
On the night of the gallery's reception, the Mid-Air Trio performed a very unique collaboration of live painting, interactive dancing and music. As music composer Joyce Rooks played different beats and songs, dancer Natalia Valerdi danced in a contemporary style around different members in the audience, all so that artist Anna Stump could be inspired to spontaneously paint different portraits. The combination of these art forms simultaneously stimulated multiple senses for all the observers. It was truly fascinating to be able to see how these works were created, especially in such an innovative way.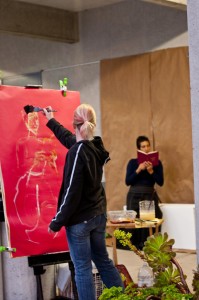 If anyone missed the opening night reception, don't worry! The gallery will be open until Feb. 27, from 11 a.m. to 4 p.m. on Mondays through Wednesdays, and 11 a.m. to 8 p.m. on Thursdays at the Mesa College Art Gallery in room D101.