Thanksgiving Dinner is Coming Early
Most people will be with their families for the holidays but many students are not as fortunate. As a result Mesa is inviting students to enjoy free food and entertainment at their annual Thanksgiving Feast on November 16, 2017.
This is the third year the Associated Student Government (ASG) has held the event and it will be located in room MC211 A/B from 2 to 5 p.m. Food will be provided along with games, music and drawings for gift cards.
The first Thanksgiving Feast hosted at Mesa College stemmed from the ASG's H.O.S.T. program which stands for Hope Offered to Students in Transition. Initially, the goal was to improve the homeless outreach program in order to help those who need it most but now the event is open to all students in need of a Thanksgiving meal.
The bills for the dinner will be covered by the students' organization budget in efforts to bring the community together during the holidays to ensure everyone is fed. The goal for the night is to not only to leave everyone with a full stomach, but bring the college community together and give back to those who need it most.
About the Writer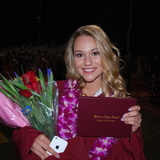 Kirsten Cesna, News writer
I am originally from Sacramento but moved to San Diego three years ago to go to school. My major is Journalism and I am hopefully going to be transferring...