From The Left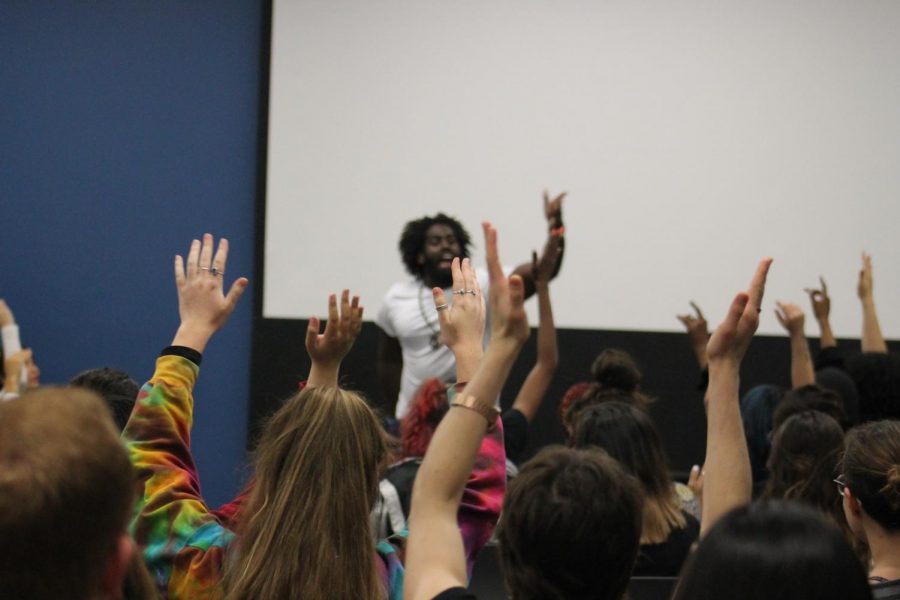 Savannah Cadet Haynes, Staff Member
May 9, 2019
The Mesa Commons was filled with people that shared inspiration, joy, and tears on the night of April 11. "Voices from the Left" hosted their annual event in room MC-211 where guests were welcomed with a mix of old school and hip hop music at the door.  "Voices from the Left" shared real life experiences of those that were a victim of bullying or harassed based on gender, race, sexual orientation, religion, physical or mental ability, or for no reason at all. Students, alumni and faculty members had the opportunity to share their life experiences where their voices had either been left behind or left out because of their different lifestyles.
"Voices from the Left" started out with only 40 seats and 11 student performers.In 2019, they had multiple showings with full crowds and students, faculty, and alumni as performers. The event started with a brief powerpoint of mashed up videos from previous performances to a motivational song called "Rise Up by Andra Day." The host ensured the audience that they would be blessed with strength and pure talent.
"It's ok to be dark and handsome,"  said by the first performer Prince Asante Sefa-Boakye, also known as Santé Prince. The 27-year-old rapper and activist is a Mesa alumnus where he studied psychology. He performed a piece called "Warrior" and was inspired by his own personal adventures, self love and self acceptance. "You have to be a warrior to get through this crazy life," he said. Price expressed that the biggest line in his piece is "I'm about to make it happen 'cause I'm way too black".
Prior to his performance he explained the challenges he faced with his given name, then shortly after went in with a personal remix called "Asante Bomaye,
" which he made"to remind everybody who I am and most importantly to remind myself who I am."  He then further explained that it was one of the hardest songs he ever wrote. "I had to appreciate myself, accept myself and tell myself that it's ok to teach people how to say your name correctly," he said.. Prince set the tone for the rest of the night. The crowd was joyful, excited and ready for the rest of the performers.
With over 10 performers throughout the night, the audience had a mix of emotions during and after each. Another student shed light on his experiences of being bullied due to his dyslexia and autism with a poem called "Sticks and Stones." Professor Sakeenah performed a piece called "Dear Straight People" that had a powerful message asking "Why do I have to prove my love is authentic?" A number of other performances revealed their troubles with depression, anxiety, bullying, suicide, representation, and toxic relationships.
The performers gave the sense of vulnerability while they shared heartfelt and traumatic experiences with the audience making the event poetic and emotional. For that short moment everyone in that room shared strength, understanding and compassion.