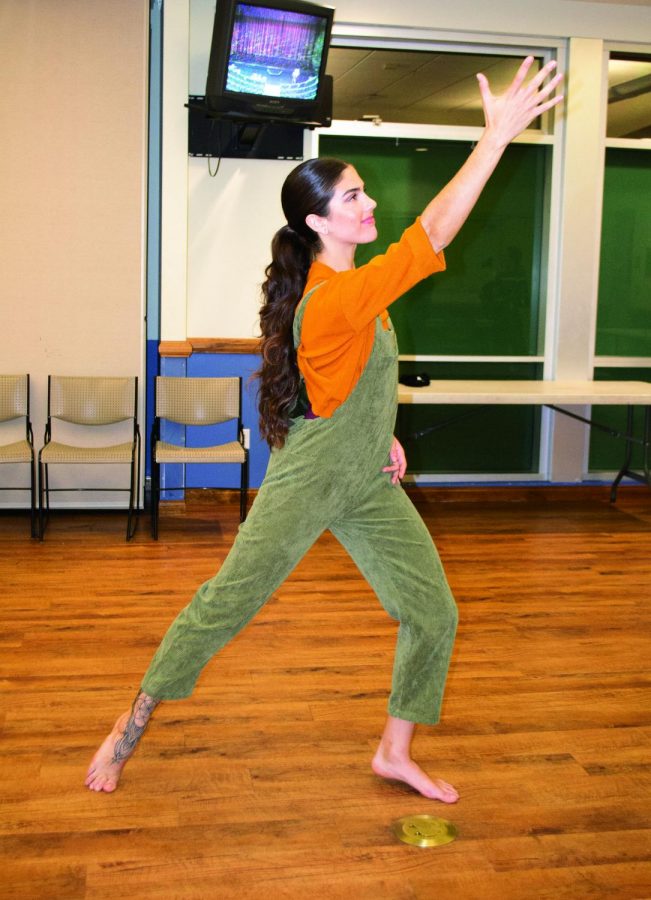 Mesa College themed this fall semester dance concert to Moment of Movement. There were eleven dances in total: Smooth Jazz; A New light; Contra Tiempo; I've Got the World on a String; Levantamiento; Vestige; Changes; Stand, Protest, Sacrifice; Baggage; Stages; and Welcome to Atlanta. 
Stand, Protest, Sacrifice choreographed by Faith Jensen-Ismay and music by Thomas Bergersen was in honor of the Women's Suffrage Movement and the 19th Amendment. Lighting was a bright yellow that focused on the dancers as they moved effortlessly around the stage. The twelve dancers were wearing white costumes that reflected pure emotions and made a statement. The theme of women uniting and fighting for equality was felt beautifully throughout the dance which made it to one of the three highlights of the night.  
Vestige was choreographed by Blythe Barton with music by Ludovico Einaudi was a mysterious and unexpected performance. It began with dancers walking in from the audience. The dancers then split by walking toward the stage, one group coming down stage from the left side and the other group of dancers from the right. Each dancer was wearing a black cape with a pointed hat, which added an element of intensity. A serious mood was felt when deep blue lights illuminated the theater and repeated motions were danced. The moment of seriousness was highlighted when suddenly all dancers were standing in a row, frozen with a light blue spotlight on them. Not knowing what was coming next kept the audience on their toes. 
Lavantamiento was choreographed by Nancy Boskin-Mullen and Ana Aquino assisted by Tristan Ross. Music was by Elsa Angulo Macias who helped the choreography come to life. Six women and three male dancers took the stage to give the dance concert some Latin flavor. Ladies wore white flowy costumes that had either blue, purple, or pink on the bottom. Two males initiating the dance wore white pants and tops. A third male dancer tried to coerce the females to dance with him as the other two males pulled him away. The powerful red and soft yellow lighting gave the piece the glow it needed, without taking away the dancers' shine. 
Welcome to Atlanta was choreographed by Melissa Adao with music by Jermaine Dupri, Jamall Willingham, Maurice Gleaton, Righteous Funk, Boogie, Jim Johnson, and Lil Jon. This dance provided a throwback feel to those who had grown up in the 90s or early 2000s. There was a lively scene where everyone was having fun dancing in the street, which referenced a popular dance movie, "Step Up." The highlight was when the dancers made a jump off stage in unison.  The faces of the audience in the first row were hilarious to watch as no one seemed to expect that. 
Vestige, Lavantamiento, and Welcome to Atlanta stood out from the rest of the dances the most. It was another great performance created by choreographers, dancers, and production staff. Looking forward to further upcoming shows.