Mesa art students celebrate the end of the semester with its Fall 2019 Student Art Exhibition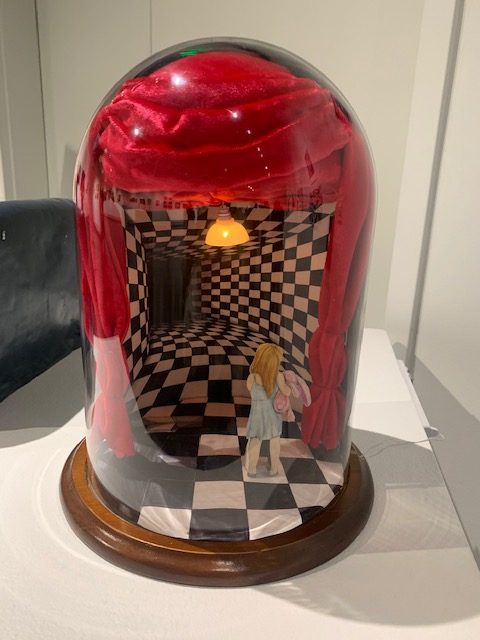 To close the semester, Mesa College hosted its Fall 2019 Student Art Exhibition highlighting the works of dozens of students. Over 100 artworks were featured in the exhibit, all created by art and fashion students of Mesa.
The exhibit was on view from Dec. 3-6. A reception and student art sale took place on the evening of Dec. 5, where everyone was welcomed to enjoy the art, musical performances by Mesa's music department students, and a nice spread of light refreshments. Booths were set up in the gallery courtyard where ceramics, jewellery, art, stickers, and other items were available for purchase. Attendees were encouraged to take this opportunity to shop the one-of-a-kind art pieces before winter break since they were great and original holiday gifts.
A wide variety of mediums were present during the student art exhibit, including drawing, digital media, painting, and ceramics to name a few. As usual, the exhibition was planned and arranged by the museum studies students of Professor and Gallery Director Alessandra Moctezuma.
A good fraction of the artworks on display were black and white drawings made with charcoal, many being still lives or portraits. It was an interesting range of subjects in those drawings, including a spooky-themed still life arrangement, different faces and people, and a finely-detailed still life of stuffed animals. The talent of the artist of "Stuffed Animal Still Life," Bethany Little, was especially evident in her sharp strokes of texture that really brought each stuffed animal to life. Another drawing, made by Aiden Northrop depicted a simple headshot of an old man – but because of his bold features such as his big sunken eyes and deep wrinkles, the drawing was unforgettably striking.
A crowd favorite in the exhibit was titled "Labyrinth," created by Rotem Oriel. Gathering viewers were impressed by the art piece, which was a tall glass dome that encased an Alice-in-Wonderland-inspired scene featuring a young girl faced with a mysterious black and white checkered tunnel behind a velvet curtain, leading into darkness. Noted underneath the artwork, Oriel stated "this piece is an exploration of mental illness and a tribute to one of the most important and influential people in my life, my dear dad. I placed my child-like awareness within my father's maze-like mind in an attempt to explore its structure and mystery."
"Apolemia Lanosa," a 3D creation by Luna Camitan, was another artwork that stood out in the exhibit. Produced with tulle, wire, wrapping paper, and LEDs, the sculpture hung from a tall metal rod and cascaded down in a spiralling shape in luminous shades of orange, pink, and lavender. "I got inspiration for my light sculpture by turning my focus to our deep seas," stated Camitan. "I found that creatures who produce light for means of protection by predators and/or attraction for their prey was beautiful, intelligent, and insanely wicked. I wanted to bring their light to land in hopes of bringing attention and interest to our unique creatures of the deep."
There was a thought-provoking painting by Karla Cortez called "Invisible People" that depicted a first-person perspective of someone photographing the beach, carefully choosing to aim his or her phone in such a way that it left out a person laying on the beach, appearing to be dirty, in pain, and without shoes. The description of the painting read "what we see and choose not to see." The modern theme of faking perfection instead of showing what's real is especially relevant in this day and age and is seen for example in the trend "Instagram vs. reality" on social media.
Other artworks in printmaking and photography, as well as fashion pieces by the fashion department were also featured in the student art exhibit. There was a clear balance in the mix of artworks that filled the exhibit, making for a fantastic close of the semester.