Restaurant Review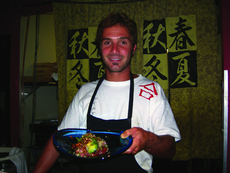 Hang on for a minute...we're trying to find some more stories you might like.
Among dozens of sushi restaurants in San Diego County, two stand out for their efforts in pleasing local customers. Sapporo in Ocean Beach and Station Sushi in Solana Beach depict their neighborhoods' lifestyles.
The family-owned Sapporo was opened in 1997 by Japanese immigrants Katsu and Yuri Ueno. Nowadays run by Yuri Ueno and her son Joe Ueno, it is the only Japanese restaurant in O.B., after standing out for years among others that didn't survive, according to the long time waitress Tutu.
"I've been working here forever," said Tutu, "and our customers are in the majority locals."
Local sailor Alex Machado is a big fan of Sapporo. He has been a regular customer for eight years, and makes sure to stop by at least once a week.
"This is the best sushi in town," he said. "And I have eaten all over. And Joe is so much fun, he loves to entertain his customers."
Joe Ueno takes care of the customers at the full bar, but Machado said Katsu Ueno is the one responsible for the good heritage.
"Katsu was extremely perfectionist," Machado said. "He seemed very tough in the kitchen, but I guess that was the reason for the high quality of the food."
Katsu Ueno left the restaurant but the sushi, the flagship dish at Sapporo, still stands out for its quality. Even though the presentation may not be very attractive, it is carefully made.
The taste of the rice in the sushi is exceptional–one of the main secrets for good sushi. It is not too sweet, sour nor sticky. The amount in the roll or under the nigiri (sushi made with toppings laid onto clumps of rice) is reduced, giving room for a generous amount of fillings or cuts of fish. The size of the sushi is just right, not too small, not too big–another important secret for good sushi.
For appetizer, the edamame (cooked soy beans) is a great choice at Sapporo even though it is served really cold. But it is perfectly cooked and tastes just right with cold sake and Japanese beer in summertime, or hot sake and Japanese plum wine on winter days.
The most popular rolls, according to waitress Tutu, are: O.B., Spicy Tuna, Sakura, Philadelphia, and Crazy Roll.
O.B. roll are especially tasty. They are filled with spicy tuna, cream cheese, avocado and masago (fish eggs). For Spider Roll lovers, Sapporo is the place to have it. The filling made with soft shell crab, lettuce, cucumber and yamagobo (a Japanese root) is just mouthwatering.
The restaurant is casual and not very pricey. An order of edamame, O.B. and Spider Rolls (with 8 pieces each), 2 eel nigiris (with pieces unbelievably thick), and refillable ice teas is about $25.
Station Sushi has a different appeal but is equally addictive, especially for North County residents. It is also family-owned and was opened seven years ago in front of the Solana Beach train station by Tony Choi and his mother. A couple of years later, Choi called his friend Kevin Saito to help him out at the restaurant and took off to Las Vegas. Saito started dating Choi's sister and bought his friend's part of the restaurant.
Nowadays, Saito runs Station Sushi in his own particular way. He likes the music loud, surf videos on the TV and people having a good time while eating. Sushi man Antonio Falcao says customers love Saito's spontaneous and unpredictable attitude.
While telling stories, Falcao prepares an entr