Christian Bale ascends beyond his Harsh Time in Hollywood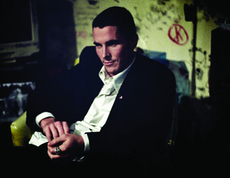 Hang on for a minute...we're trying to find some more stories you might like.
Actor Christian Bale is seeing a renaissance in his career right now. This year alone Bale has appeared in two films opening within months of each other. "The Prestige" is the Christopher Nolan directed tale of dueling magicians in the turn of the century while the other is a brutal look at life in South Los Angeles called "Harsh Times"(which he also produced) directed by "Training Day" creator David Ayer.
In the latter film Bale turns in a completely psychotic turn as returning Iraq war veteran, Jim Davis. Davis is clearly affected by his tour of duty, and loses all control on reality. It culminates into a violent bender over the course of a few days with his best friend, Mike Alonzo (Freddy Rodriguez) that spans from the urban streets of South Los Angeles to Mexico.
It's a role that calls for such intensity that only an actor like Christian Bale could possibly tackle it. The tattoos and the shaved head make him that much more of a menacing character adding to the psychotic nature of Jim. It's almost like his Patrick Bateman character from "American Psycho" is suddenly thrown into the violent ghetto of South Los Angeles.
Though "Harsh Times" may only make a small blip on the radars of moviegoers and the advertisement for the movie isn't memorable and doesn't do the movie justice, the mere fact that Bale is involved is reason enough to see this movie.
Within the last couple of years Bale is beginning to receive more accolades for his work, beginning in 2005 with his realistic portrait of the Batman legend in "Batman Begins." Using the Frank Miller graphic novels as his inspiration he gave Batman an edge that included a change of voice while under the cowl. He also captured the elitist, playboy persona of Bruce Wayne that neither Tim Burton or Joel Schumacher conveyed in their "Batman" films. Reportedly Bale would like "Batman" to have a love scene in the sequel to add further humanism to him.
Years before that, you may have not known that Christian Bale's various roles included the racist rich kid in the poor remake of "Shaft" or as the lost love of Penelope Cruz's character in "Captain Corelli's Mandolin" (a movie that boasted Nicholas Cage doing a strange italian accent). Many may not realize that he played Thomas in the animated film version of "Pocahontas" years before he was John Rolfe in Terrence Malick's "The New World." "Swing Kids" is also another film to check out for Bale-heads for his turn as an adolescent swing music fan in Germany during the Nazi regime buys into their propaganda.
Shockingly he auditioned for the role of Robin in "Batman Forever" and was nearly cast as Jack Dawson in "Titanic." Over the years he's been in the demand for movies ever since his breakthrough performance in Steven Spielberg's "Empire of the Sun," where a 13 year old Bale received his first critical praise. With each performance he brings something different such as for his hauntingly, gaunt performance in "The Machinist" he lost more than 60 pounds for the role.
He's not a "Hollywood" actor in the sense that Tom Cruise and Brad Pitt are, instead Bale chooses to tackle more obscure roles while also remaining hidden from the tabloids and spotlight.
Next up he will play an aspect of Bob Dylan's life in Todd Haynes (his "Velvet Goldmine" director) film "I'm Not There," followed by a role as a rancher matching wits with an outlaw (Russell Crowe) in the remake of the western "3:10 To Yuma." Then he will once again don the mantle of Batman for the sequel "The Dark Knight" which is already set to star Heath Ledger as The Joker.
The current blockbuster titan "The Prestige" is out right now as well as "Harsh Times" which should be given a chance at life by the movie going public. Who knows, maybe an Oscar is soon to follow.