Urban solace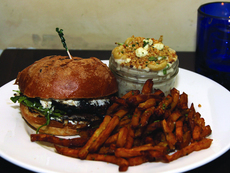 Hang on for a minute...we're trying to find some more stories you might like.
Life is a cold, harsh and unloving place. All that a person can do at times is curl up with their favorite comfort food, turning that blue box of Kraft macaroni and cheese into a shield against life's cruelties. Enter Urban Solace, an upscale restaurant featuring all of the classic comfort foods that have sheltered man against the world but with a gourmet twist.
Urban Solace is located on 30th Street off of University Avenue in North Park. The restaurant specializes in what it calls "New American Comfort Food." If this term is unfamiliar, just take a look through the menu and it will make sense. With items like "Duckaroni" (macaroni and cheese with duck, garlic and scallions) and the "Grilled Four Cheese Sandwich," customers will feel as though someone took their favorite comfort foods and set the cast of Iron Chef loose on them.
However, do not assume that because it has a theme that Urban Solace is just a niche restaurant. In addition to its themed dishes, there are more standard choices such as the steak of the day, or a premium grade beef cut that comes with a roasted potato, crispy onions, and creamed spinach.
That said, Urban Solace is an upscale restaurant and is priced accordingly. Though not bank breaking in price range compared to similar establishments, it is still probably not a place that will be considered for frequent dining by of those with college level incomes.
If you're fond of a glass of wine or a good beer with your steak, Urban Solace boasts an impressive selection of over 36 wines. Wine choices include labels such as Vlader and JCB with prices ranging from $20 a bottle to as much as $50 a bottle depending on label.
For those who wish to wash down their meal with a hearty beer instead there are a number of quality ales, lagers, and pilsners available which include both commonly recognizable brews such as Stone Pale Ale and lesser known names such as Trumer Pils Lager.
Service is very good, especially for such a busy establishment. Even during peak dining hours, the waiters are very courteous and will come by their tables often to make sure that everyone is having a good time. The quality does come at a cost though. Expect the average meal before drinks and desert to run at least $15 per person. When everything is said and done for a full meal expect the bill to be closer to around $20 to $35 if you eat cheaply, and that's before factoring in wine if you plan on stepping up the class a notch.
If you're looking for an upscale place to have a pleasant dinner with friends or a date, Urban Solace is a solid choice. While the pricing is a deterrent from casual dining, that's nothing new to upscale restaurants. In comparing the pros and the cons of the quality of food, service, and style, Urban Solace is a memorable dining experience that is more than worth the price that will be paid.