Great sushi on a budget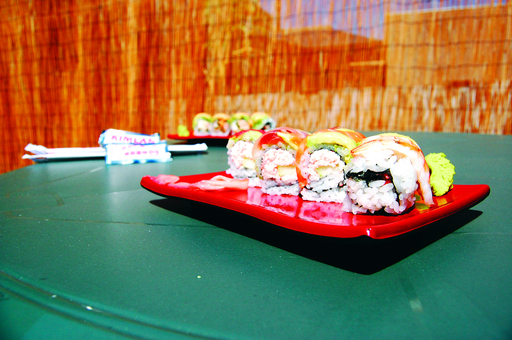 Hang on for a minute...we're trying to find some more stories you might like.
Sushi Deli prides itself for selling the best value sushi in the community of San Diego. Sushi Deli has three locations: one in Downtown, Hillcrest, and Clairemont. Sushi Deli 1 was opened in 1983, it began as a small shop in San Diego selling sandwiches and sushi. The restaurant became very popular that they opened the other two locations. Although they are no longer serving sandwiches they still offer the freshest and best value sushi in town. Sushi Deli 3 which is located closest to Mesa College at 5447 Kearny Villa Rd, San Diego 92123, which is only two miles from campus.
Sushi Deli is a college student's restaurant, offering unbelievable prices and fantastic drink specials. The restaurant offers a variety of sushi rolls and caters to the trendy, yet on a budget college students can afford. The overall environment of the restaurant is upbeat and comfortable. The staff is outgoing and has the freedom to have an eclectic style, showing off their tattoos and facial piercings.
Sushi Deli is not like any other sushi place that people would normally go to. The main difference between Sushi Deli and any other sushi restaurant is Sushi Deli is not fancy, nor does it try to be. It stands out from its competition because they are laid back and casual with their crew, restaurant decor and more importantly there customers'. Walking up to the restaurant customers will see a patio adorned with Christmas lights and wooden bench seats for waiting. Walking further back past the outdoor seating, customers can wait on outdoor picnic tables. Entering the restaurant they have a bar to the left and a sign in sheet where guests add their own names. The restaurant has very dark lighting to increase the laid back ambiance. The music choice is alternative and loud. The overall décor in the restaurant is dark and full of wood furniture. The walls are a glossy burnt orange color with papers addressing drink and food specials. The support columns are decorated with Japanese inspired masks and other Japanese décor.
When going out for sushi, people expect to pay an arm and a leg for it, but not anymore with Sushi Deli just around the corner. This restaurant is the perfect place to go when looking for sushi on a budget. The prices of the rolls start at 2.75-7.99. The rolls are unique, interesting, and fresh. Most people going to this restaurant can have a plentiful sushi dinner and walk out spending less than twenty dollars, including tip.
Favorite rolls amongst patrons are The Dragon Roll, The San Diego Roll, and The Hot Hot Shauna Roll, for the vegetarians. The Dragon Roll consists of crab cucumber and shrimp tempura and topped with eel and sweet sauce. The San Diego Roll is a deep-friend roll with plenty of cream cheese to satisfy any taste buds. The Hot Shauna roll is very interesting because it is made with sweet potato and cream cheese then topped with spicy mayo. Sushi Deli has over seventy rolls and counting.
Sushi Deli always makes its customers happy by having 99cent Bud Light/ Bud beers on draft all day, every day. Lauren, a Mesa student, said, "I can't get enough of Sushi Deli's prices and drink specials, every time I come here I leave full and completely satisfied"
Because of their extreme popularity customers can expect to wait over an hour for dinner. Luckily, they do have take-out, so there is an alternative solution. "The wait really doesn't bother me so much because the waiters are so friendly and are working so hard that they make up for the longer wait. And besides the food is definitely another reason to wait patiently", said Jake Allen a Mesa College student who enjoys sushi on a regular basis.
Since there are three Sushi Deli restaurants, no matter where you are in San Diego a Sushi Deli is near by. Mesa College students now no longer have to get stuck spending your savings on sushi in a bourgeoisie restaurant.