One percent of students participate in ASG elections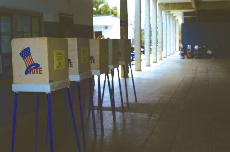 Desdemona Meck
May 30, 2006
Jonathan Arevalo was hard at work outside the cafeteria trying to get people's attention, support and most importantly votes on May 9 and 10. All of his, and other candidates, hard work paid off when, on the following Monday, he discovered he would be president of the Mesa College Associated Student Government, ASG, for a second year.
The polls were 191 to 68, making the total ballots 270. This number demonstrates that many Mesa students making up the 22,000 person student body have neither heard about the ASG elections, nor have they obtained information about the Associated Student Government system.
Mesa College has a student government available to represent the rights and ideas of the student body.
Jonathon Arevalo, the current returning president has the superiority to do many things for the Mesa student body. Arevalo has the duty of standing for the Associated Students of Mesa College when representation is necessary.
"The president's role is to listen to things happening on campus," says Anngeri Skarboszewski, Arevalo's running mate in presidential elections this semester. The information the president obtains is important to informing the dean and president of the school as to what students want from Mesa.
Other offices that are held in the ASG are Vice-President, Treasurer and Associated Student Senate Representative, Skarboszewski is currently in this position. Each of these people aid the President in different areas by reporting information to and from the president and other committees.
The ASG helps many differing committees available to students on campus. This past year the student senate was able to send donations to Hurricane Katrina relief acts as well as help fund club activities.
"President Cepeda is very supportive of student representatives," explains Skarboszewski. This backing gives the student government the ability and freedom to sustain the student body at Mesa College.
Skarboszewski was able to answer many question about Arevalo's presidency in his past year, and objectives for the next. Because Arevalo could not be reached Skarboszewski's information is all Mesa Press received about ASG and any future changes to the Mesa Campus.
One of Arevalo's goals for this year is to continue to get information out to the students about ASG. Just last semester he held a Student Appreciation Day. The ASG sent out promotional brochures and gave Mesa Students free pizza and drinks. Skarbowzewski says "it got a lot of information out," as she congratulates Arevalo's good ideas.
Students Alexandria Ramos and Brenton Gill agree that information about the ASG needs to become more available to students. "Let us know in advance events that are happening," Ramos suggests, "what use are on campus activities when no one knows to go."
"I would like to know more about ASG," says Gill, who was very surprised to learn how much he didn't know. "Signs and billboards about what's going on," Gill proposes would be a good way to get information out.
The two had many suggestions for Arevalo to work towards in his new year-long term. Things like carnivals, events that raise awareness about important things and an on campus recycling program.
Skarboszewski explains Arevalo's approach to presidential government in the past year. "Arevalo currently stays detached from the officers," says Skarboszewski. While she never criticizes his style she says "I don't think we did enough this year to help senators get more done." Arevalo is fairly focused on the administration, something Skarboszewski believes she could have changed if she had won the election.
Troy Sanders was elected for Vice President at 227 votes.