Mesa Switches to Pepsi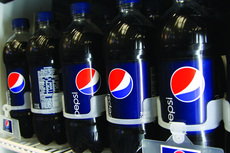 Hang on for a minute...we're trying to find some more stories you might like.
Students are beginning to take notice of changes transpiring recently on campus at Mesa College. One of which is the replacement of all the soda products on campus, including energy drinks.
There are still the same types of soda available on campus; the only difference is that they are now all the Pepsi brand equivalents. The inventory shift applies to the San Diego Community College District, so Miramar College and City College are also switching to Pepsi products.
The reason for this shift is in how the district chooses what beverages are for sale.
Every few years, auctions are held between different firms who make offers for the business contracts. This gives them a monopoly on beverage distribution rights within the SDCCD's campuses.
When this happens interested companies submit bid forms that explain how they will provide beverages if they are chosen to be the vendor by the SDCCD, as well as what they would prefer to do differently from the standard contract agreement.
The bid forms are a series of forms also referred to as bid packages, which are submitted by interested companies and then either approved or denied at the discretion of the San Diego Community College District.
For example, Coca Cola's bid was rejected this time around because the SDCCD felt they were making too many amendments to their bid packages contract. The bid packages that dealt with beverage distribution rights were 10-7, 10-8, and 10-9, all of which were awarded to the Pepsi Bottling Group.
Bid package 10-7 addresses fountain drinks. The benefits granted by 10-7 give the awarded firm the right to choose what beverages will be distributed at the soda fountains, which are, for technical purposes, the soda machines that students operate themselves.
Aside from fountain drinks there are also alternative beverages which are discussed by bid package 10-8. Alternative beverages are for simplicity drinks that aren't carbonated beverages (though this can vary).
Water for example, is an alternative beverage as are energy drinks and Frappuccinos. The granted contract gives the right to dispense beverages in vending machines but also covers any manner of distribution not addressed by packages 10-7 and 10-9. The company is responsible for furnishing and maintaining any equipment they use to dispense their beverages.
The final package, 10-9, deals with canned and bottled beverage distribution. With respect to contract agreements beverages in this case refers mostly to carbonated beverages such as sodas. The firms selling their beverages, similar to bid package 10-8, are responsible for providing and maintaining their own refrigeration units, which is why students may notice that the soda freezers such as the ones in the Mesa C-Store have changed.
Each of the contracts granted by the bid packages last for a period of two years. Don't be surprised if drinks on campus stay the same longer than this however, because all of the contracts come with three optional one-year renewal periods.