Mesa College rallies for Trayvon Martin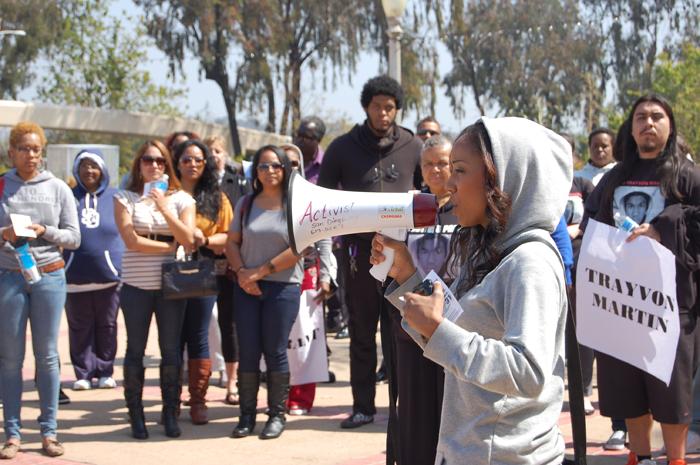 Lauren J. Mapp, Editor-in-Chief
April 24, 2012
As backlash against the Florida "Stand Your Ground" law that kept George Zimmerman from initially being arrested sweeps the nation, students took a stand to support the family and community of Trayvon Martin through a rally held on March 30.
Martin was killed on Feb. 26 in Sanford, Fla., while returning home unarmed from 7-Eleven with a bag of Skittles and iced tea when Zimmerman allegedly felt threatened by Martin, responding by shooting Martin in the chest.
Eliminating violence in American pop culture was one of the major messages that was stressed during the March 30 rally. Black studies and public relations major Brisa Johnson, who attends San Diego Mesa College and San Diego City College, is most concerned with the need for parents to be able to properly protect their children.
"One thing that really hits home for me is the fact that we live in a society that is so violent that our children aren't even safe," Johnson said. "And when a mother can't protect her children we have to stand up and say 'enough is enough!'"
Keynote speaker Starla Lewis, a black studies professor at Mesa College, added to the note of protecting and loving the next generation.
"I have shed tears not only for the death of Trayvon Martin, not only for the death of my grandson's peers, not only for the death of the unknown children. I've shed tears for the death of the children that aren't even born yet," Lewis said during her speech.
The rally also brought up the strong themes of racial profiling and prejudices that faces minority communities. The need to rectify these aspects of the community, not only from the perspective of people outside, but also from African Americans themselves, was a focus of Michael Hill's speech.
"I have had hate crimes perpetrated on me, and I have had hate crimes perpetrated on me by my own people. That is not OK," Hill said.
Many speakers and attendees at the rally agreed with Hill in regards to the crimes within and against the African American community. Lewis called for a movement not only for Martin but for everyone who has been the subject of violence.
"Trayvon represents not just this one beautiful, brilliant child, Trayvon represents all those other children who things have happened to before and who are still happening to. They never made the news," Lewis said.
Though racial profiling, especially against black men, was one of the main problems discussed throughout the rally, the message that change needs to come from within the African American community was another main point of discussion.
"Change is on the way, but we've all been waiting for change for a long time … because the reality is we are that change. We are the change, when we get together and come together as a people," Hill said.