Fight for 15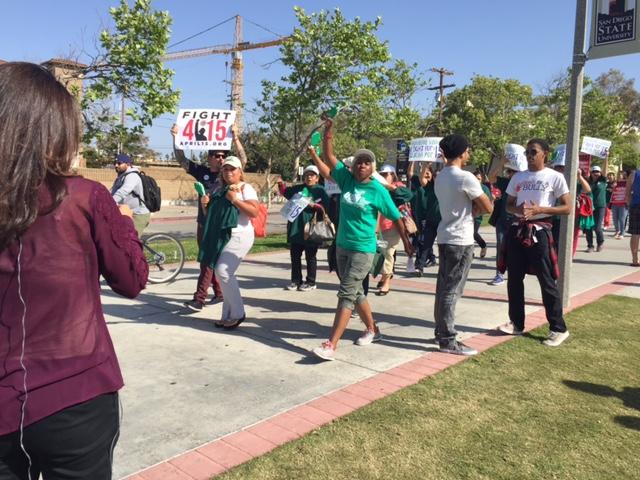 When it comes to the minimum wage, the times are constantly changing which means what was once considered a decent wage is not enough for individuals to support themselves. With the cost of living constantly increasing, individuals need to take on two, even three jobs, in order to support themselves and their family. A recent event at San Diego State University showcased the importance of raising the minimum wage.
Individuals from all walks of life attended the event to support the need for improvement in the wages of the fast food, homecare, retail industry, etc. Various individuals shared their stories at the event to showcase the ever-growing struggle that plagues workers from all fields of work. The idea of workers deserving dignity and respect was prevalent throughout the event.
San Diego City College adjunct professor Sarah Martin shared some shocking information while discussing the need for the minimum wage to be raised. Martin shed light on the fact that 25 percent of adjunct professors are enrolled in some sort of public assistance program. Regardless of one's education level, there is still a struggle when it comes to supporting one's self.
Rosa Lopez, a janitor and Service Employees International Union (SEIU) member, shared her story and discussed the difficulties of not making a living wage. Lopez said, "I have to work 365 days a year… I have to decide what bills to pay." What resonated throughout the event was the fact that individuals deserve security, dignity and respect. Big companies make millions, even billions of dollars, while their workers are struggling to pay their bills on time.
The feeling of unity was present while individuals shared their experiences of receiving an unsubstantial hourly wage. Reverend Beth Johnson said, "You are not alone. Faith communities stand with you, clergies stand with you, the community stands with you. We will fight with you. We are fighting together because this is the struggle for all of us."
While individuals raised the spirits of others and strengthened the bond between individuals, the mantra of the day was "I believe that we will win!"
In the end, the fight for 15 will continue to impact communities and shed light on the injustice that is occurring. Fight for 15 attendee, Jean Costa, put it best when she said, "We need more CEOs to get a conscience." The more people hear the hardships others face, the more they will be able to understand a problem plaguing society and offer support.
About the Writer
Joyce Melendez, Staff Writer
Hello, my name is Joyce Melendez. This is my second year as a Staff Writer for The Mesa Press. I am a sophomore at Mesa College and I am majoring in journalism....