A new season brings optimism on the gridiron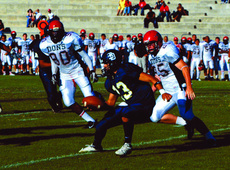 It's that time again. As the new academic year begins, so too, does a new football season.
This year the Olympians have a familiar face in a new position. Matt Kofler has been named the head coach of the Olympian football team replacing Martin Moss who retired. Kofler is returning for his ninth year, but this will mark his first season in charge of the program.
Kofler has a wealth of experience, both as a player and as a coach. Starting his career at Mesa in 1978, he was as an All-American quarterback in 1979 earning a scholarship to San Diego State. He played for five years in the NFL, with the Indianapolis Colts and the Buffalo Bills.
Kofler acknowledges there is a great deal of responsibility as the head coach. He remains optimistic regarding the Olympians' upcoming season and hopes his players achieve a well-rounded experience while at Mesa.
"We want this to be a winning program, while at the same time, I want this to be a positive experience both on, and off, the field," said Kofler.
Sophomore wide-receiver Derick Barkum seems to share the same attitude as the new head coach.
"I like it a lot, it brings change. He has experience in the NFL. He's really good," said Barkum about Kofler taking over the program.
When asked how he plans on improving the team from last year's 3-7 season, Kofler pauses.
"We worked hard in the off-season, to instill a winning attitude, commitment, and accountability both in the classroom and on the field," he said.
Student athletes commit to a year-long weight-training program, as well as spring and summer football classes. Returning players hope to progress and improve upon their individual performances last season, while incoming freshmen hope to earn a spot in the starting lineup.
Mesa opened up conference play against College of the Desert. Barkum was enthusiastic on their 31-14 victory.
"That was our best game so far. The offensive line was blocking really well, and the running backs were hitting all the holes. Hopefully we'll keep this up," Barkum said.
Mesa has played two non-conference games so far this season. The first was against Golden West, where the Olympians came up short with a 17-14 loss.
Kofler noted outstanding play from freshman linebacker Tyler Minimum and freshman wide receiver Ryan Sevier, who caught a 21-yard touchdown pass, and returned a punt 61 yards.
The Olympians played the Santa Ana Dons on Sept. 9. Mesa started off the game with a huge defensive stop. Sophomore defensive back Tito Jose had a 70-yard interception return for a touchdown to thwart the Dons' first drive.
Mesa was plagued with nine penalties for minus148 yards.
" Our strengths can at times be our weaknesses," Kofler said. "Overall, we are a very young team, excitement and emotions need to be honed into an aggressive focus."
The Olympians are a young team indeed. According to the 2006 roster there are only 24 players with college experience among 83. The offensive line has the most youth; five out of six starters are freshmen.
"We're young, but we are sticking together really well," said freshman Brad Heaton.
Barkum acknowledges the jump from high school to college football.
" The whole game is faster, everyone; the lineman, the corners, the quarterback. Everything is faster," Barkum said.
Sophomore quarterback Kamy Ahmadian looked strong early on. Ahmadian was tested, as the Dons were able to penetrate Mesa's offensive line. Ahmadian's athleticism, and great mobility, enabled him to get out of the pocket when rushed.
Ahmadian's best play came in the third quarter when he hooked up with Barkum for a 66-yard touchdown reception, despite double-coverage.
Santa Ana didn't punt the entire game. The Olympians responded to the challenge, shutting the Dons down on two fourth down conversion attempts.
Mesa's defense is anchored by sophomore defensive lineman Scott Fader. Fader was a beast on the line of scrimmage, clearly vocalizing his sincere desire to punish the Dons offensive line on every down. Santa Ana went on to win the game, 34-14.
Kofler believes in this team. "They are a smart group, they just need experience together playing as a team," Kofler said.
Mesa's next home game is against Chaffey on Oct. 14 at 5 p.m.