Mesa breeds athletic trainers of the future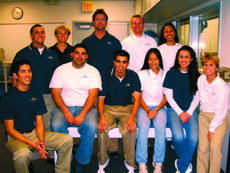 Hang on for a minute...we're trying to find some more stories you might like.
With Mesa having more than 20 intercollegiate athletic teams, Sue Lalicker and Debbie Black, the only two Mesa athletic trainers, are faced with caring for potentially about 300 injured athletes a semester.
Thanks to the Athletic Training Educational Program, a student internship program that has been established between Mesa and San Diego State University, Mesa's athletic trainers are no longer faced with this daunting task.
In addition to lending their facilities to SDSU athletic training interns and providing them with hands-on training experience, Mesa offers them an added bonus: A chance to work first hand with San Diego Chargers' head team physician, Dr. Tal David.
Only four-year universities are allowed to offer an athletic training program to students. Of the five associated schools, SDSU provides interested students with this approved program and Mesa, along with UCSD, USD, and Grossmont College provide a facility for the required two years of clinical internship these students have.
"If you start to look at undergraduate programs in almost any field, you never really get the hands on experience until you become a graduate student," Lalicker said. "That's what is kind of unique about this athletic training program is that you are actually in the field getting experience."
Lalicker and Black are currently working with nine SDSU student-interns who volunteer about 20-25 hours of their time to the program. This "small group training" type of atmosphere these internships provide allows students a better opportunity to learn from experience than if all 60-70 students involved in the program had only SDSU's facilities to work with.
" I actually believe Mesa is probably the best site," said Donnie Cobbler, one of the SDSU student-interns at Mesa. "Even though it's a community college, Sue an Laurie do such a great job pounding the information into us. At a lot of the other sites, like at State, you travel with your team and that's all you do. You don't really work with anybody else. Here at Mesa we probably get more hands-on experience than anywhere else."
Dr. David visits Mesa to work with the students and treat athletes once a week. Having the Chargers' head doctor work at Mesa's facilities not only bodes well for Mesa's injured athletes, it makes a learning opportunity available for the interns as well.
"It's awesome because he (Dr. David) brings so much knowledge in," said Cobbler. "He just kind of checks out an injury and we just watch him do his thing. It's just awesome to see how he pinpoints exactly what's wrong. Usually he explains what he's doing along the way so it's cool."
Instead of having to meet an internship hours requirement, students must pass a skills proficiency test in order to move forward in the program. As clinical instructors, both Lalicker and Black encourage their students to get as much hands-on experience in their clinic as possible.
"Sue and Laurie usually try to hang back and let us do the work because that's how we learn," said Cobbler. "They want us to take the initiative when people come in. We try and do as much as we can until we get stuck or we don't know what's wrong or we get to the point where we can't do any more then we ask Sue or Debbie. They walk us through what's wrong or what else we need to do, and we are able to gain just a little bit more of that knowledge."
The student-interns aren't confined to sitting in the office waiting for a patient either. Lalicker and Black often oversee the home games and the office while the students provide medical support to away games.
"My students travel with the teams," said Lalicker. "See, that's a service we couldn't provide if I didn't have the athletic interns. So we offer more services to our student athletes by having athletic trainers who can do that. And that's part of them getting experience."
Because of Lalicker, Black, and the association they helped build with SDSU, students benefit. Mesa can now offer its athletes extended care both on and off the playing field not only from extra trainers on staff but through the care of the Chargers' head team doctor. And through those experiences, Mesa and its professors are teaching the athletic trainers of tomorrow.