Mesa students shine at STAR awards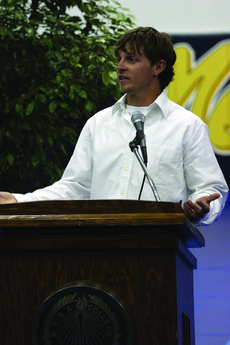 Hang on for a minute...we're trying to find some more stories you might like.
Sportlight athletes take top honors at this year's third annual STAR awards, held on May 6 in the Mesa Gymnaium.
Football player Tombe Kose took home the Individual Community Spirit award, followed by volleyball and softball player Denisse Martinez who received the SUPER STAR award.
Kose came to America from Sudan at the age of eight and has excelled in athletics ever since. He is an active member in the community and has just signed an official letter of intent to play football at Syracuse University.
SUPER STAR recipient Denisse Martinez, a dual athlete, has felt the strains of managing school and sports. While maintaining a 3.5 GPA she was awarded Defensive Player of the Year for softball and given the Coaches Award in volleyball.
Last year's SUPER STAR award winner Joshua Denz was this year's keynote speaker. Denz was selected as the California Community College Athletics Association Male Scholar-Athlete of the State this year. Denz spoke about his involvement in Mesa water polo, his life inspirations and his receiving of the Scholar-Athlete award.
"It's such a great honor and inspiration to be nominated by my coaches and given these amazing awards," said Denz.
This is only the third time a Mesa student has won the statewide award and the first time since 1985.
All the student athletes are nominated by their coaches and then voted on by a committee made up of coaches, counselors, and administrators who work at Mesa. The STAR Awards committee is made up of Kristy Carson, Ailene Crakes, Guadalupe Gonzalez, Leroy Johnson, Kim Lester, Debbie Powell, Nathan Resch and Brian Stockert.
This year's ceremony was dedicated to track and field coach Arnie Robinson, a gold and bronze medalist from the 1972 and 1976 Olympics. A slide show was created and presented to Robinson in addition to a commemorative plaque.
The STAR awards were created in 2008 by Mesa Academics and Athletics Program counselor Kristy Carson to recognize and celebrate athletics and athletes at Mesa.
When Carson came to Mesa four years ago she noticed the lack of recognition and knowledge of the sports teams and programs on campus. She wanted to create something to show the dedication and heart behind all of the student athletes.
"There are 20 sports teams at Mesa, and nobody knew about any of them," said Carson.
Once a student athlete herself, Carson knows how hard it can be to score points in a game and in the classroom, so a highest individual and team GPA award are included in the ceremony. Men's cross-country had an overall 3.21 GPA in the fall, and baseball player Brennan Geary earned the award with a 4.0 GPA.
"These students have no time, and work so hard, we have to recognize that," Carson said.
The Team Community Spirit Award was given to women's basketball team for their generous involvement and fundraising for breast cancer and earthquake relief for the recent disaster in Haiti.
Carson knows the success and popularity of the STAR awards will shed light and a new interest in sports at Mesa, and produce an appreciation for the hard working and dedicated students who play on Mesa's sports teams.