Olympian Football Players Continuing Education and Football Careers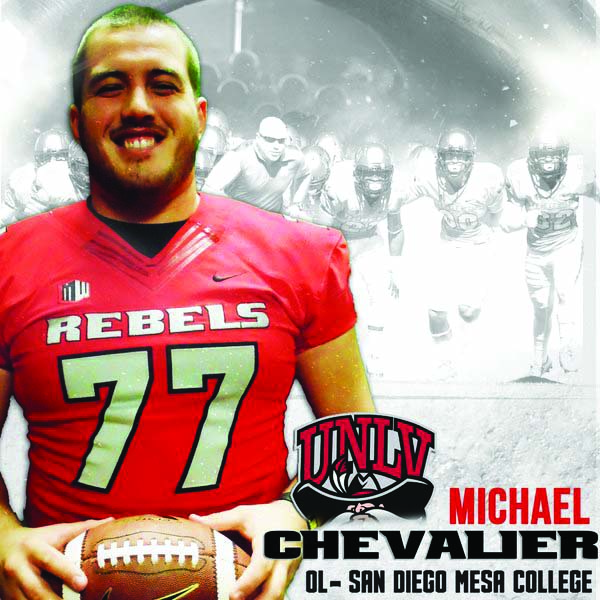 Jimmy Hausauer, Sports Editor
April 21, 2016
Hang on for a minute...we're trying to find some more stories you might like.
Spring football, in college, is the time where coaches evaluate the team from the previous season, lift weights, condition, and recruit to make the team better for the following year. For junior college programs it's the same except for the those lucky individuals who played exceptionally well, and caught the eyes of schools from NAIA to Division 1, spring will also be the time of transitioning to a new school or signing letters of intent to one. Mesa's football program does this exceptionally well.
This year seven Olympians will be joining new schools next fall or, already started their spring semester, with many more to come. "I believe this will be our biggest year yet," said head coach Peter Lofthouse, "We have a very talented group this year and as long as everyone's eligible, it's going to be a good year."
Already Offensive lineman Michael Chevalier signed with University of Nevada Las Vegas and is already on their campus prepping for the upcoming season and Safety Stephen Adegoke has given verbal commitment to Central Florida. "For two years Stephen has been one of the leaders on this team," said coach Kurt Debniak, "He's a warrior competitor, he makes sure he's the best that he can be, on the field and in the classroom, and he brings others with him. He'll make sure teammates go to class and do better and won't take plays off on the field."
"The coaches have been very active in the process of recruiting and transferring players. They'll do everything in their power to help you achieve your goals moving on to the next level," said Adegoke, "it's also on you as a player as well. We still have to put in the work in the classroom making sure to study hard to maintain our grade, work hard in the weight room and on the field. We all have to be leaders in our own respect."
"There's a couple different times in the year where coaches will come and visit. When the season is over they'll come in and meet with coaches or send emails and ask us who we recommend as players for all levels," said Lofthouse, "and they'll look at film we give and make evaluations on players highlights and look at transcripts. A lot of times other schools will call me to get information about a players character and how they are on the field. Once they find what they want and the player has held up his end, we can send him off to school."
"The classroom is really the most important thing," said coach Debniak, "other than your talent the next thing is your academics. You have to get good grades and constantly stay on top of all your classes. We can get players seen by coaches all across the country but if you don't have the grades you wont get that scholarship. We have our entire team attend mandatory tutoring that requires them to meet certain amount of hours that way we can keep all of our guys in check."
Along with Chevalier and Adegoke are Michael Hastings University of San Diego, Davion Fuller Azusa Pacific University, Marcus Diaz University of Ottowa, Dane Skriloff Southern Oregon University, Ray Gayton Cal Lutheran University and many more to come.