Women's Cross Country Gearing Up for Success
Coach Sean Ricketts On What to Expect From the Ladies
The Mesa Press had a chance to sit down and discuss the upcoming cross country season with San Diego Mesa College's very own cross country head coach, Sean Ricketts. Coach Ricketts is coming in to his third year at Mesa College, and has big plans for the women's team. With the team coming up short of glory for the last half-dozen years, Coach Ricketts has high hopes for his new squad of talented freshmen.
What's an average practice like for the women's cross country team? 
"It varies with the time of the season, there's different phases. We're currently in our prep period so we're barely starting to race and our volume's higher. Practice starts with a 45 minute warm up which consists of some core and strength stuff, and form and technique drills. Their runs vary, I believe in individual training so our girls are running everywhere from 4 to 8 to 9 miles."
Any big meets to look out for? 
"Actually tomorrow (September 13) we have our big Southern California preview meet, so we all get to preview the course out at Mission Bay. We get a chance to look at all the teams in our conference and most of the teams in our region." 
How do you think the team will perform this year?
"Really well. Basically, last year we did not have a scoring a squad. This year we have a really solid group and their goal is basically to bring back the legacy of the women's program. Back in '94 they won a state championship and they've placed top in the state in the last 20 years but in the last 5-6 years they haven't done so well… This is my third year here. So they're looking at trying to make a conference, placing top 14 in the region and making it to the state, which they should be able to."
Key athletes this season?
"Yahaira Zuniga, she'd be our top runner right now that's leading the way. Last week we went out to the fresno invite which is the preview for the state meet, she placed 6th among some of the top girls in the state. We also have Beyonce Wright and Adriana Leal, those are some of our top girls and they're freshmen so out whole squad is freshmen."
Anything fans should focus on or meets they should attend?
"On October 25 we have our conference championship meet at Marley Field which is 5-10 minutes south of campus and out first race is at 2 p.m. The SoCal championship is out at Mission Bay at Tecolote Shores Park at 10 a.m. on November 8. Those will be two key meets to come out and watch, our girls will run really well and our guys will dominate. But we're looking at both women and men winning the conference meet and then going on to state."
The women's cross country team has high expectations for the season, and with a handful of freshmen hungry for victory, Coach Sean Ricketts is taking all the steps necessary for his team to achieve success. 
About the Writer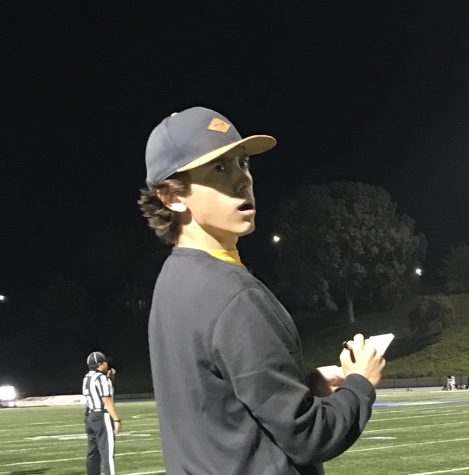 David Doss, Sports Editor
David is beginning his second year at Mesa College and is planning on transferring next fall in order to finish his degree in journalism. When David isn't...