Sister Vanilla deliver strong noise pop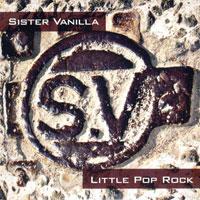 With Sister Vanilla we get a re-banding of one of the greatest groups of the 80s, Jesus and Mary Chain.
Jim Reid and William Reid are back in business again, together with Ben Lurie (also of Jesus and Mary Chain renown) and their younger sister Linda Reid on vocals.
Linda Reid was invited to sing on Jesus and Mary Chain's last album, 1998's "Munki," of which "Little Pop Rock" is in many ways a straight sequel to.
Not quite as furious as the earlier material such as "Psychocandy," yet not as distilled and clean as "Darklands," "Little Pop Rock" settles for somewhere in the middle. A little bit more sophisticated, a little bit less guitar-rage.
That is not to say that the album doesn't sound mean. The drumbeat of "Jamcolas" positively sounds like a pair of knuckles pounding on flesh, topped off by the most lurid distorted guitar of the year. Just because Jesus and Mary Chain were raw back in the '80s doesn't mean a good old tavern brawl isn't going to leave scars.
Linda Reid's whispering yet tough-as-nails voice proves to be the perfect complement to the beautifully distorted guitars of her brothers.
"Pastel Blue," the album opener, proves to be an acoustic spring-breeze of a pop song with the gentle touch of a both a piano and electronic arrangements.
The softer songs might have felt juxtaposed on a leather-clad creature such as "Little Pop Rock." Then again, as always when the Reid family is involved, if you begin to shave away all the effects and distortion you find essential pop that would make the Beach Boys envious.
Another great slow song is the languid, decadent and seductive "Kissaround." Echoes on both vocals and guitars are a ridiculously easy recipe for strong pop. It is a continuation of such simple, stylized tricks that make "Little Pop Rock" such a good record.
A further example of that line of thought is namedropping "Psychocandy" in the lyrics of the meandering dilettante that is "K to be lost."
Pop doesn't have to be difficult. It just has to come from the right place.
"Little Pop Rock" is scheduled for an April 2 release in the United Kingdom on Chemikal Underground Records.