Take it easy, enjoy unique Mexican cuisine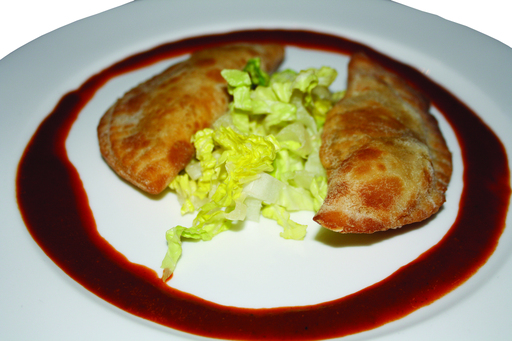 El Take It Easy, a newer addition to the North Park foodie scene, is a gastro-cantina bringing the concepts of sustainable meat and whole animal use into the American diet, located in North Park at 3926 30th St.
El Take It Easy shares ownership and a local-first mentality with popular eatery The Linkery, also located in North Park, but their concepts could not be any more different. While The Linkery features a menu full of house-made sausages and cured meats, El Take It Easy's menu features small plates and appetizers with hints of Mexican flair.
The other main difference between these two restaurants is the overall atmosphere. One of the key features of The Linkery is its giant roll up windows that let the restaurant breathe, but at El Take It Easy, there is more of a closed in yet rustic feel. The brick walls, exposed wooden ceiling beams, and artwork from local artists hung on clotheslines make up the bulk of the décor.
El Take It Easy is home to some fun game nights and special events, to include trivia nights, Meet Meat Matinees of movie viewings, art shows, and nights with DJ hosted music. Jazz night is held every Monday and on the last Wednesday of each month restaurant customers can enjoy hip music and a few free rounds of Bacon Bingo. Winners go home with a delicious pound of Linkery cured bacon, a product made from locally-grown and ethically-raised pork.
One of the goals at El Take It Easy is to use all parts of the animal in their menu items, not just the choice cuts that are most commonly enjoyed by the American consumer. Chicken livers, hearts, spleens, necks, even the dangerously interesting sweet and sour chicken heads are some of the more daring items found on the menu.
If the idea of eating poultry organs and fighting through Kentucky fried chicken skulls is off-putting or you simply do not want to put in that much work to eat, there are still plenty of options to try. The papas loco is an addictive appetizer to start off with. The hand-cut fries in this dish are topped with a sweet and spicy plum chili sauce, candied peanuts, a refreshing cucumber salsa, pork belly chunks, and cilantro.
When dining at El Take It Easy, one must try the infamous pork belly tacos. These tacos topped with coleslaw and slabs of pork belly seem a little fatty, but close your eyes and you will be transported to a magical land where diets don't exist. It's amazing how good something so caloric can taste.
All of this talk of meat may be deterring potential vegetarian customers, but have no fear, El Take It Easy's menu has plenty of equally scrumptious meat-free items on it as well. The top vegetarian option is the squash empanadas that are made to perfection with a flaky crust and a smooth butternut squash and melted cheddar cheese filling.
Though the portion size is somewhat small, the thin and crispy churros with an organic Taza chocolate dipping sauce and blood orange slices are a sweet ending to your meal. To wash it all down, try a glass – or two, or three – of the house-made sangria.
Given its location, El Take It Easy is the perfect spot to stop by en route to some of your favorite hangouts in North Park. It's also a great place to bring your friends, so gather the troops and head there to dine and listen to some sweet indy music and old school tunes.