Alchemy creates golden fare from international favorites
Many restaurants have failed in their attempts to fuse multiple cuisines, but Alchemy has truly succeeded in churning out an international menu that is pure gold, located in South Park at 1503 30th St.
Part speakeasy, part art gallery and part irreplaceable dining experience, Alchemy has been a great addition to the city's foodie scene. Vibrant paintings rotate on and off the walls, but Todd Williams' tree sculpture is always prominently displayed at the heart of the restaurant.
Pulling influences from around the globe, each menu item at Alchemy complements the others while balancing flavor, technique and creativity.
The Asian-inspired aloo tikka is a crispy, hockey puck shaped portion of mashed potatoes and peas garnished with diced red onion and micro cilantro, served with sweet tamarind chutney. It is reminiscent of the loveable innards of a samosa without the unnecessary, doughy crust.
Alchemy's taro tacos feature unique and delightfully attractive taro root taco shells filled with lean pieces of braised pork belly, thinly sliced cucumbers and micro cilantro. These adorable mini tacos look more like art than food with a flavor that is up to par with their presentation.
The oysters on the half shell may not be ninjas like the famous, half-shelled heroes, but their fresh, clean flavor with a touch of lemon juice, cracked black pepper and horseradish will inspire you to order a second round.
The tiny lengua street tacos in freshly made tortillas are flavorful and perfectly spiced when blended with chili guajillo.
Served fresh instead of fried, delicate squash blooms are filled with a mixture of creamy ricotta and sweet corn. The stuffed blossoms provide a nice way to cleanse the palette and transition between appetizers and the main course.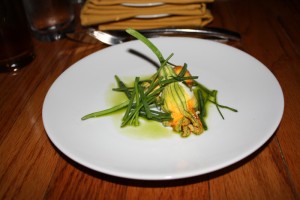 For dinner indulge in the hearty grass-fed beef options such as their burger or rib eye steak – the flavor is far better than any piece of factory farm meat you'll ever sink your teeth into.
If a vegetarian entrée is preferred, try the mixed grain salad of couscous, quinoa and bulgur wheat topped with fried carrot strings. It is guaranteed not to disappoint and likely the most filling and most beautiful salad that you will ever try.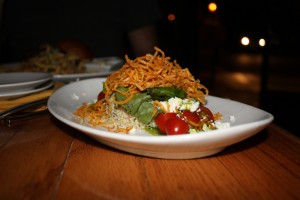 The holiday season may come but once a year for most, but at Alchemy customers can enjoy the sinful, cranberry bread pudding year-round. Drizzled with ginger-infused caramel and topped with toasted pumpkin seeds and vanilla gelato, this dessert puts a smile on even the grinchiest of faces.
Once a month, diners can reserve a spot for a "dinner with six strangers," where one can be paired up with five others to enjoy a three course meal while making friends with their tablemates.
Even if you aren't hankering for a big multi-course meal, the drink menu at Alchemy makes it the perfect spot for happy hour with friends. Stop in to try one of the diverse beers on tap or a hand-crafted cocktail.