From gaming to television, RoosterTeeth releases show, RWBY
Photos / images © 2013 Rooster Teeth Productions, LLC
Hang on for a minute...we're trying to find some more stories you might like.
The well known 'Rooster Teeth', the gaming company known to be the creators of the animated web series Red vs. Blue, has taken a new chance by creating the up and coming show "RWBY" the CG animated web series, created by the RT's animator Monty Oum. The trailers of the animated series had already been viewed over 15 million times, on the website www.Youtube.com and there home website www.RoosterTeeth.com.
Watching the first episode release at their Austin, Texas Convention "RTX", which was available to around 3,000 people, was an amazing experience to say the least.The audience waited in anticipation for the show to be revealed, months of waiting and we finally had the oppurtunity to watch the showing before anyone else on the web could. As the room darkened and the music began, cheering which died down to silence cosumed the room, as the show had began.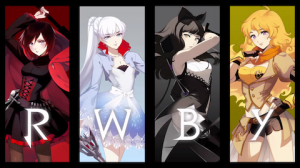 The show takes place in an alternative universe, which is filled with supernatural creatures known as the "creatures of Grimm." Humans must defend themselves from these beings from these beings by using elaborate weapons, and a magical substance known as 'Dust,' to wipe the evil from the world. With that note the series focuses on four girls, Ruby, Weiss, Blake and Yang, who attend Beacon Academy where together they are trained to become huntresses to take down the Grimm.
The animation was captivating, the battle scenes were breath taking and even earned some gasps from a few attendees. As the Finishing credits rolled, the room was filled with an uproar of applause and cheer. The series has gotten a lot of fans, and coverage, even earning a spot on Crunchyroll's most popular animated series of the season. With season 1 already wrapped up, we sit and wonder in anticipation to see what else Monty and the rest of the animation team have up their sleeves to awe the fans in the upcoming year. But from what we all can see, Rooster Teeth wont let us down, and we can expect, an upcoming season full of promise, action, comedy and a whole lot of monsters taking over our computer screens.
To find out more info on RWBY, RvB or to become a Rooster Teeth fan yourself, go to www.Roosterteeth.com, or go watch the amazing videos they release on there YouTube channel: www.youtube.com/roosterteeth.