Mesa celebrates homecoming with triumphant victory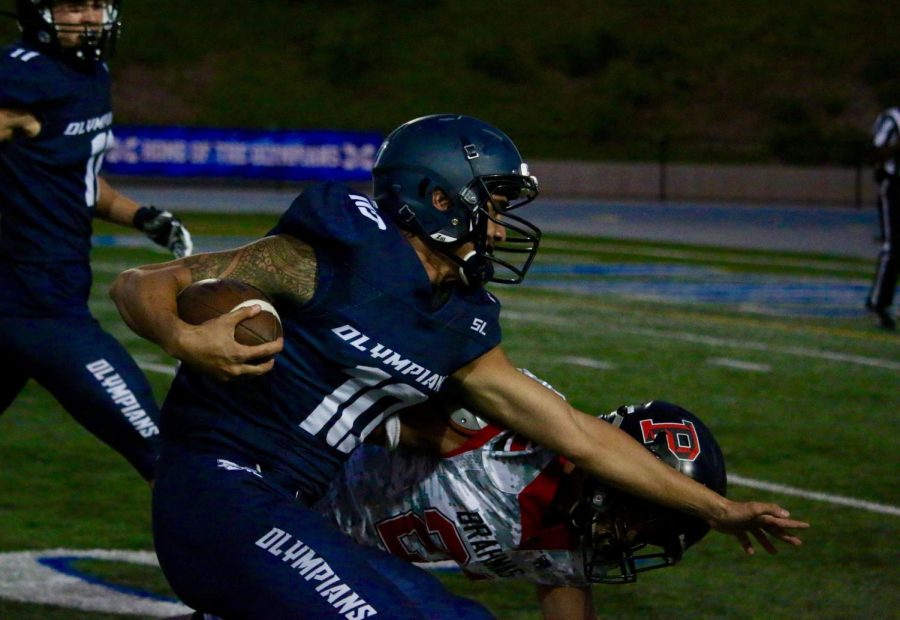 Mesa College football celebrated their annual homecoming game by handedly defeating Los Angeles Pierce College 49-6. Preceding the game, Mesa students and family members celebrated with a tailgate hosted by several of the school's clubs and organizations. Festivities included everything from raffles, to games, to of course, food. With high spirits and full bellies, Mesa fans were more than ready for the game to start later that night, Sept. 21.
The first quarter opened with a neck-breaking start from the Olympians. Mesa won the coin toss and chose to kick, a choice that instantly paid off. Mesa's defence stormed the field, shutting down Pierce's hopes of a first down. When Pierce tried to punt for their fourth down, the ball was blocked by Mesa safety Ethan Simley, forcing a fumble. The fumble was recovered by Mesa wide receiver Dom McManus, who ran the ball 21 yards, scoring a touchdown less than two minutes into the game. Later in the first quarter, the Olympians marched down the field, topped off with a 13 yard touchdown pass from quarterback Thomas Yam to running back Isaiah Tate. Mesa concluded the first quarter with a safety earned by linebacker Isaiah Mitchell, bringing the score to 16-0 leading into the second quarter.
Second quarter proved to be explosive for the Olympians. Three minutes into the quarter, Mesa had once again marched down the field and Isaiah Tate ran the ball into the endzone for another touchdown. The onslaught continued when running back Andrew Wimmer rushed 26 yards for another touchdown three minutes later. LA Pierce finally had a chance to respond on the next drive, but they missed the kick, bringing the score to 30-6. Mesa answered swiftly with quarterback Asante Hartzog throwing a 13 yard touchdown pass to wide receiver Antwoine Ware. The Olympians were not yet satisfied, and running back Ranse Garner scored a touchdown off a 14 yard run to conclude the half 42-6.
Homecoming festivities resumed during halftime. Mesa ASB students took the field, followed by Mesa College president, Pamela Luster. After the raffle winner was announced, the dance team gave a special homecoming performance. After the dance team finished, the crowd was invited on the field to dance along to the "Cupid Shuffle," led by Pamela Luster.
After the field was cleared and the halftime dances were done, the Olympians kept the pressure on in the second half. Running back Shevell Sterling Jr. scored the last touchdown of the game with a six yard run. With the scoreboard reading 49-6, Mesa's defense continued to hold the Brahmas advance through the end of the game.