Queens of The Stone Age explore new territory better left untouched with "Villains"
Queens of The Stone Age have released their latest album, "Villains," which brings a new but stale sound for the band, thanks to their collaboration with producer Mark Ronson, better known for working with artists like Bruno Mars and Lady Gaga. With only a few exceptions, "Villains" is mediocre and forgettable, and unlike previous albums like 2002's "Songs For The Deaf" where intense drums and guitar riffs electrified the ears of listeners, this one offers nothing new in terms of originality.
Even having not known the album was produced by Ronson, the difference in artistic direction was immediately made apparent in the opening track, "Feet Don't Fail Me." The song set the tone for the rest of the album by delivering a funky, almost pop sound, atypical for QOTSA, who usually carry a more aggressive and heavy alternative garage rock sound. From this point forward, the album does little to capture the listener's attention. Except for three tracks, the songs are slow paced and boring with little differentiation, making every song sound like the last one. Stuck between the less interesting songs of the album is "Head Like A Haunted House," which is a pleasant return to the harder side of QOTSA, and where the album would have taken off, if only there were more than just two other decent songs.
"Villains" takes another turn with the last two songs, one of which, "The Evil Has Landed" was released previously as a single. This and the last song, "Villains of Circumstance" are what saved the album from being completely stagnant and brought listeners back to the more garage inspired, guitar shredding sound that QOTSA were known for up until now.
Ronson is no doubt a talented producer, known for making hit songs like "Uptown Funk," but his style is obviously not a match for QOTSA. Individually, these artists can and have done great work, each unique in their own way, but together, ironically, the end result is boring and generic. Ronson's funky and danceable style could work well with a rock band, but not one with as heavy a sound as QOTSA; a more appropriate match would've been a band like Foster The People, a group already known for their catchy, sometimes pop sound.
According to Billboard, Ronson had been a longtime fan of QOTSA and was introduced to lead vocalist Josh Homme when the two helped produce Gaga's latest studio album. It was also reported that Homme knew their collaboration would be one fans would not expect to hear, saying, "I have no interest in fitting in. I want to f–k with people at every stage." This statement is ironic, considering that the reason the album is subpar is because it sounds too much like other rock bands who get more airplay in retail stores than on the actual radio.
About the Writer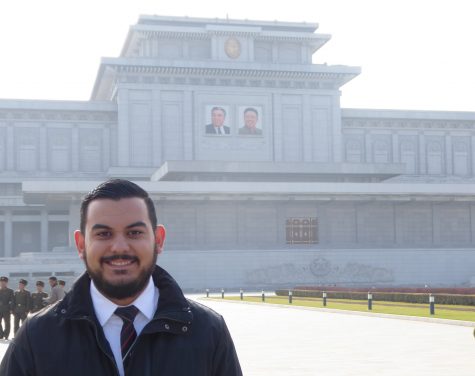 Chris Anthony, Editor In Chief
Hello, my name is Chris Anthony and this is my third semester on staff and I am finally Editor In Chief for The Mesa Press. I am very passionate about...