Recital Hour AMPs your ears to a different tune
The sound of Mesa's music department shares its recital hour in the C-100 Building every Wednesday at 4:00 p.m. in room C-119. You don't have to be a student to enjoy the free live musical events performed by well-known international performers, faculty, Mesa ensembles and composition students. The final two performances feature Mesa College's Applied Music Program (AMP) students.
In a recent recital hour, award-winning fingerstyle guitarist and singer/songwriter Jim Earp joined the list of participants that performed in the AMP's concert series. Earp, a San Diego native, has a compilation of eight solo instrumental guitar CDs and is a two-time top five finalist in the International Fingerstyle Guitar Championship held annually in Winfield, Kansas.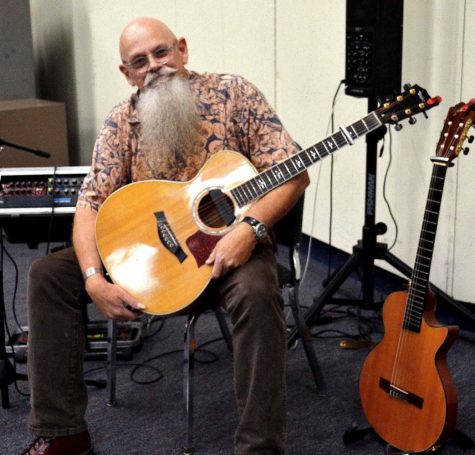 Earp isn't constricted to one style; with a very distinctive sound that changes to the next, it's almost as his strings come alive and tells a story. You can imagine a scene from a western film with the theme music played by Earp's single guitar. Something is going down!
"… this is my third appearance… I'm going to do some finger style guitar, Hawaiian slack key, talk about Hawaiian slack key, where it came from… origins of it, I'm also going to do some original, some Celtic, and some two kind of tapping new age…," says Earp.
Attendees also heard music from his "Smiles To Go" album that include "Clouds Over Mojave" and "Spend My Life With You."
Musician Miguel Angel Ochoa-Gillett, a non-AMP student at Mesa has been attending the recitals every week, "It's inspirational, it's also just very interesting as a musician, it introduces you to new styles of music that is behind the mainstream." said Ochoa-Gillet
"…it's kind of viewing new music… it's not traditional music or anything like that… more of kind of exposing the students to completely new sounds, like a rhythmic composition creating drummer,"said Ochoa-Gillet.
Recital hour plays a unique role showcasing artists that are not acknowledged through advertisement, radio, or TV. For the general public, it shares new music and it also gives the performing artist an audience to build upon.
Each week there is a new artist on the menu with a different taste of music style. Just some of the upcoming styles coming this October include: Big Band Jazz, World, Computer Music, and South Indian Carnatic Vocal.
The Applied Music Program (AMP) is available for music students who are interested in the next level or have already mastered their potential but want to hone more of the musical techniques. Recital Hour (MUSI 123) being one of the required classes, the program also consists of performance feedback and free weekly private lessons.
For more information on Recital Hour, contact professor Ian Bassett at mailto:ibassett@sdccd.edu; For more information on the AMP program, contact Dr. N. Scott Robinsion at nsrobins@sdccd.edu or visit the music office in room C-109.