Faculty Art Exhibition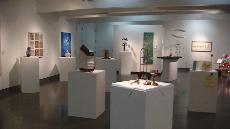 Hang on for a minute...we're trying to find some more stories you might like.
Beginning Feb. 7, the judges will become the judged. The professors who are normally the ones doing the grading now find their works on display under the critical eye of students and art aficionados alike in Mesa's new art gallery.
Feb. 7 through March 5 The Mesa Art Gallery will feature an exhibition displaying the work of 25 of Mesa's Fine Art faculty. In this exhibition, which typically occurs only three years, many accomplished, internationally recognized artists on campus displaying their hand picked works. Among these, professors Barbara Sexton, whose work has been exhibited throughout San Diego, and Jim Machacek, whose artists' books can be seen in collections across the country as well as internationally.
The opening of the Faculty Art Exhibit was marked with a reception in the Gallery Courtyard on Feb. 7. Niki and Hueso Productions presented a performance piece in the gallery during the reception titled "The Fire Next Time." Following the Opening Reception Nathan Betschart, an artist mainly working with ceramic and mixed media sculpture who has exhibited his work throughout the country and professor here on campus, gave an Art Lecture.
The gallery, newly remodeled, sitting across from the LRC, currently houses over 25 works on its white walls and stands. Pieces sitting on their display stands next to short descriptions of the artist and his or her work, along with a price tag for those interested in buying these one of a kind pieces, all of which will be available for purchase at the end of this year. Gallery Director Alessandra Moctezuma notes that it is nice to see the work of so many professional artists, who have spent many years and a great deal of time working on and perfecting their craft, displayed in Mesa's Art Gallery.
With a comprehensive assortment of media ranging from computer graphics to furniture, one would be hard pressed to find an artistic niche not yet carved out by an artist here on campus. Moctezuma said that students who traditionally think of art as limited to painting or drawing would be surprised to see the variety of works being created by artists here on campus, some of which cross disciplines, incorporating found objects, mechanical elements, and analytical research into their work to create new and unusual takes on common thematic focuses.
"It's wonderful to have all these different types of media," she said. "It gives students a real sense of the possibilities."
And it is indeed difficult not to notice the vast range of "possibilities" that she speaks of when the exhibition features work from artists working in different disciplines. The gallery is full of pieces from painters, sculptors, and photographers alike, among many other artists. From blown glass vases to ceramic work and back, the scope of focus of the professional artists here at Mesa certainly is not narrow.
The Faculty Art Exhibition, an event that occurs once every several years, will run through March 7 in the Mesa Art Gallery, which is open Tuesday, Wednesday, and Friday from 12 to 5 p.m. and Thurs 12 to 8 p.m.