Influential Mesa students featured at Rosa Parks Transit Center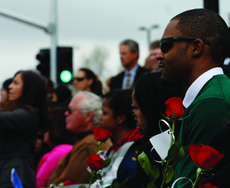 The Feb. 25 unveiling ceremony of the new Rosa Parks Transit Center at Mesa's east entrance was a success. Students and faculty gathered around the bus stop to hear commemorative speeches and a performance by the Mesa College Vocal Ensemble.
There are pictures of Rosa Parks on display at the MTS bus stop and there is also a large photo featuring 12 influential Mesa students. These students were chosen to represent the Mesa College student body because of their accomplishments, leadership and ability to overcome adversity.
The students featured in the project are Jamaal "Mason" Walker, Miguel Murillo, Patty Garegnani, Carlos Garbiras, Lindsay Tarr, Bihawa Nimaga, Hermes Castro, Yama Khuu, Daiva Seputiene, Nina Moua, Brande Faris and Sebastian Law.
One of the featured speakers at the unveiling was Hermes Castro, a geology major. Castro is said to be the first paraplegic to explore the continent of Antarctica. He once competed in triathlons but was hit by a drunken driver while biking to work and was paralyzed from the waist down. Fundraisers for Castro's trip took place on campus at Mesa with the help of student organizations and Mesa College President Rita Cepeda. Castro tirelessly worked through years of physical therapy with the hope of walking again and being able to once more compete in triathlons. Last semester, he was still in a wheel chair but he is now proudly walking about campus.
"I'm truly honored to be part of this project," said Castro. "Education is everything and coming from poverty and really coming up in the world, refusing to take a back seat, standing up for my beliefs. It's truly an honor."
Patty Garegnani was a fashion design major at Mesa and is a former fashion club president. During her time at Mesa, she was heavily involved with multiple student organizations. She has recently become a mother and has taken time off to be with her daughter. Garegnani plans to return to Mesa to get her certification in fashion design before starting her own business from home.
"I was really happy to be part a part of this," Garegnani said. "It means a lot to me. And the day this picture was taken, I realized I was pregnant, so I'll always have that memory tied to this experience."
Miguel Murillo, an ethnic studies major with a minor in women's studies, was one of the featured speakers at the unveiling ceremony. Rosa Parks made significant headway in both subjects and her legacy is close to Murillo's heart. He is passionate about his chosen path and is proud to be involved with this project at Mesa.
"A lasting impression I have about being here is that you can be yourself and still achieve what you want to," said Murillo. "You don't have to transform or change for anyone."
The 12 students have been immortalized in the bus stop photo for the impact they have had on their fellow students and to inspire future Mesa students.