Professor wins 'Chef of the Year 2011'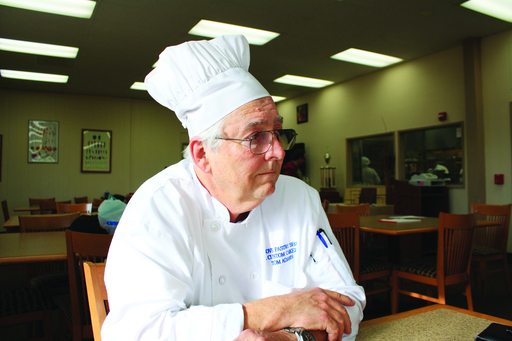 Giving to the community, teaching future chefs and sharing knowledge all contributed to Chef Tom Adams, professor of culinary arts, receiving the "Chef of the Year 2011" award from the Chef de Cuisine Association of San Diego on Feb 13.
The American Culinary Federation (ACF) is the final word on who is and who isn't a chef. The Chef de Cuisine Association of San Diego is the San Diego chapter of the ACF and has only awarded 36 "Chef of the Year" Awards during its 50 years of existence.
The award came as a complete surprise to Chef Adams as the Chef de Cuisine Association kept the names of the selected nominees' secret. While many factors are considered in the nomination process, Adams' background and contributions to culinary arts in San Diego paints a clear picture as to why he was chosen for this honor.
Adams realized at a young age that he had a passion for cooking, but the late 1960s was an era of clearly identified gender roles: "Boys took shop, girls took home ec," said Adams.
His counselor, however, saw something special in his abilities and arranged to have him spend half of his school day taking cooking classes at Mesa College.
He eventually completed his studies to become a fully trained chef and worked in several different kitchens, including a year stint as a chef on a tuna fishing boat, before starting his own bakery.
Once on his own, Adams received several accolades. The San Diego County Board of Supervisors gave his bakery the "Business of the Year" award and made May 10, 2000 "Tom Adams Day".
He was given the honorary title "Jessie's Angels" because of the volunteer work he did at the Polinsky Children's Center, which houses hundreds of children who, for their safety, have to be removed from their homes. Every holiday Adams and his staff would arrive with pastries, candy and decorations for the children. He would also bake a monthly birthday cake for the children staying at the center.
While he takes pride in every one of his creations and accomplishments, Adams' greatest love is seeing the smiling faces of children who ask for their favorite cartoon character on their birthday cakes. "It's about the customer," Adams said.
For 10 years, he also participated in the Epilepsy Foundation of San Diego County's Gingerbread Gala, where he was asked to create a gingerbread structure that would be judged, awarded and ultimately auctioned off with the proceeds to benefit the foundation. Here he took several first, second and third place awards. However, he was less interested in winning an award and more interested in creating a structure of beauty that would benefit the foundation. When asked to create a specific type of structure he'd "do his own thing" instead.
Adams also enjoys creating wedding cakes and has made 2,751 to date. He wants to make it to at least 3,000 wedding cakes, but what happens then? Adams said he's going to start working on cake number 3,001 as he doesn't plan to retire for at least another 15 years.
Adams wasn't satisfied with just creating wonderful desserts, pastries and candies, he was more so passionate about giving back to his community and to the people who would mold the future of culinary arts.
Starting his culinary studies at Mesa College, Adams has come full circle and is passing on nearly 40 years of experience in culinary arts and business ownership to his students. As the teacher of the classes "basic and advanced baking and pastry," Adams holds nothing back.
Brittaney Cantwell, a culinary arts and culinary management major, put it best by saying, "He tells it to you straight out."
He generously shares with his student's years of information he's compiled on cooking, how to start your own business and how to run it successfully. In fact, at the beginning of every semester, Adams shares all of his recipes with each student.
"I'm not going to be around forever," he said about his not-so-secret recipes. By giving students who walk into his kitchen a "leg up," he contributes to their success once they graduate and helps them avoid some of the obstacles he's had to overcome. This, he sees as his true legacy.
Constantly joking with his students and always encouraging them to try new things, including letting a group make bacon and pepper pastries, he uses a friendly environment to facilitate learning.
"He's sort of a father figure, [which] helps facilitate our learning because you have that bond," said Carrie Chow, a student of culinary arts and culinary management.
Adams has a wealth of knowledge to share with new, aspiring chefs and kitchen-weathered chefs alike. Greg Norman who has had over 20 years of culinary experience and is currently working on a degree in culinary arts and culinary management greatly enjoys the experience of learning from Chef Adams and values the knowledge he's gained in class.
"He has the experience and the knowledge to pass on to even guys that know their ways around the kitchen," Norman said.