Women's History Month: WASPs at war
SDSU archives show student involvement in WWII
March is Women's History Month, and to celebrate and honor the women who have made a difference throughout U.S. history, San Diego Mesa College will be having various events over the next few weeks. One in particular will be viewable all throughout the month in the LRC.
Mesa College Professor Lisa Shapiro has compiled a collection of letters written by women who served in the war in a presentation called "In Her Own Words: Letters From Women of WWII." The letters in this collection come from a massive collection of letters currently held at SDSU. According to the SDSU website, Professor Lauren Post, a WWI veteran who taught Geography at SDSU from 1937 to 1969, created "The Aztec News Letter." According to the SDSU Special Collection and University Archives website, the newsletter was "a 'news service experiment' intended to provide information about the locations of current and former Aztecs dispersed around the world." The newsletter was published once a month during the duration of the war and featured nearly 5000 letters written by students directly to Professor Post, who had set out to collect their addresses before they shipped out in order to keep in touch with them.
Shapiro has read every letter in the collection and says, "This letter collection is unusual because it was men and women all over the world writing to one person… Any one letter isn't a history book, any one letter doesn't tell the whole story of war. But if you take 5000 letters from all over the globe and you read them all, you're getting these little snapshot vignettes of what the war was like, and when you put them all together you have a pretty comprehensive picture of what the war was like."
Women served in all branches of the military during WWII, however many of them started out as civilians contracting with the armed forces. Over time, some were given rank. One group of women who performed a critical function for the U.S. Air Force were never given rank during the war. They were known as WASPs, or Women Airforce Service Pilots.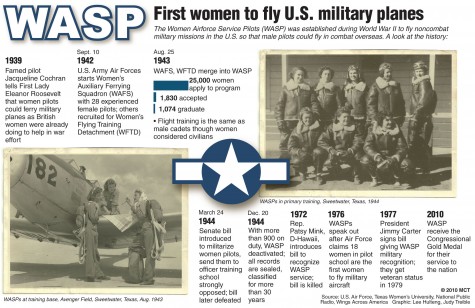 Due to a shortage of pilots during WWII, women were trained to fly military aircraft in non-combat capacities, such as from aircraft assembly locations and from one base to another. Women came from all around the country to be a part of the program, including San Diego of course. Following the war, the WASPs were dismissed from duty and faded into obscurity. Years later, according to the Air Force Historical Support Division, in 1977 President Carter granted the WASPs military status. Many more milestones were reached over the next several years in which the WASPs received more benefits and recognition for their service. Most recently the WASPs were awarded Congressional Gold Medals in 2009.
One pilot in particular, Jeanne E. Robbins, wrote to Post three times. Her letters are included in Shapiro's presentation in Mesa's LRC. Her final letter details the disbanding of the WASPs as the Air Force transitioned all flight operations to male combat pilots. "It is only right but it is with great sorrow that we WASPs are leaving flying."