15-year-old boy shot and killed at Torrey Pines High School
Hang on for a minute...we're trying to find some more stories you might like.
Early morning on May 6, a 15-year-old student carrying a BB gun at Torrey Pines High School was shot and killed by police officers. According to homicide detectives, the boy dialed 911 to request police officers check the welfare of another male who was "unarmed "in the Torrey Pines High School parking lot.
Just before 3:30 a.m., San Diego Police including the juvenile service team arrived at the high school's parking lot. As the officers exited their vehicles, the boy pulled out a handgun from the waistband of his pants and pointed it at the officers. The two officers that were on the scene then drew their guns and repeatedly commanded the boy to put his gun down.
The boy continued to disobey the officer's commands and instead chose to walk towards the officer with his handgun still pointed at the same officer. The officers continued to give the boy commands to stop and drop the weapon.
According to homicide Lt. Mike Holden, "Fearing for their safety, both officers fired their weapons at the male striking him numerous times." The officers immediately began performing a life-saving measure on the boy and called the paramedics for assistance. An ambulance arrived and transported the boy to Scripps Memorial Hospital where he was pronounced dead.
After an investigation, it was found out that the original phone call made to the officers was by the same boy who was shot and killed, and identified himself by name during the call to the dispatcher in the initial phone call. The handgun the boy carried was later identified as a semi-automatic BB gun.
The name of the boy has yet to be released since he is a juvenile but it is confirmed that he was a resident of the community. The police who arrived on the scene were a 4-year and a 28-year veteran of the San Diego Police Department and their names should be released in the next few days.
Since the investigation is still ongoing, the officers will be reassigned to desk duty per SDPD protocol. The officers were wearing body cameras at the time of the event and portions may be released after the investigation is closed, according to Holden.
Two days after the shooting, Holden stated that the boy had a suicide note on him that was recovered at the crime scene. The note indicated that the boy "had planned the incident that resulted in his death," Lt. Holden said.
This incident happened just a week after the mass shooting in University City, La Jolla.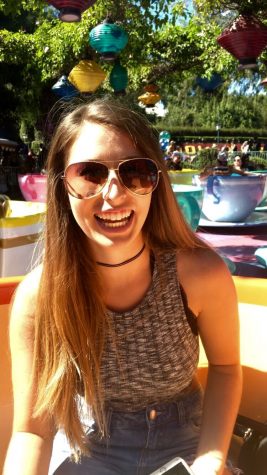 Rachel Hauser, Writer/Photographer
Hello!
My name is Rachel and this is my first semester being apart of the Mesa Press. I have spent my last four semesters at San Diego Mesa College and...