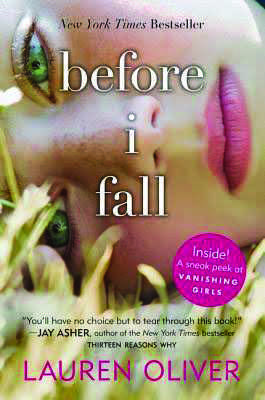 In the spirit of Women's History Month, it would only be appropriate to highlight a female writer who has continuously been climbing the ranks when it comes to popularity in the fiction world.
Lauren Oliver is a popular, young adult fiction writer who has been sharing her written word with the world since 2010. Six years previously she graduated from the University of Chicago, afterwards attending New York University's MFA creative writing program, according to laurenoliverbooks.com. She also currently co-owns Paper Lantern Lit., which is a literary development company.
Oliver's first novel is titled Before I Fall. This novel depicts something that would drive any person crazy if it happened to them: repeating the same day over and over again. It follows the main character, 17-year-old Sam, who gets into a fatal car accident on February 12. The accident is explained in vivid detail as Sam experiences all of the pain and heartache of her the last few minutes of life, and then suddenly wakes up and discovers it is once again the morning of the same day, February 12. As Sam goes through the next five days, which are full of confusion and frustration, she finds herself in situations that represent, simply put, the five stages of grief. These five days act as a learning experience for Sam, as she grows as a person, teaching the readers what in life is the most important: the quantity of what you have in life versus the quality of the relationships you surround yourself with.
Oliver not only dabbles in writing YA novels, as she has recently expanded her works to adult audiences as well, with her debut of Rooms. This novel follows the Walker family, made up of the ex-wife Caroline, the son Trenton and the daughter Minna, who arrive at the old country house for their inheritance after the patriarch of the family, Richard Walker, passes away. However little do they know, they aren't alone, as this country house contains many rooms and many objects that reflect an entire lifetime of connections to the home. Two very vocal, albeit the Walkers cannot hear them, ghosts travel the house as the watch the family, sharing stories of their past. Both the living and the dead that inhabit the house are all haunted by the truths about their past, and these truths all blow to the surface when a new ghost appears, one that Trenton can actually communicate with, bringing on a domino effect of events.
Perfectly coinciding with Women's History Month, Oliver has released yet another YA novel titled Vanishing Girls, which was released on March 10. It follows two sisters, Nick and Dara, who used to be inseparable, until life got into the way and left them on uneasy terms. Nick eventually wishes to make things go back to normal, however she finds that impossible when Dara suddenly disappears on her birthday. Initially, Nick assumes her sister is messing with everyone, until she discovers that another girl, who is nine years old, also disappeared. Nick's search for Dara convinces her the two missing cases are connected, leading her, as well as the readers into a intriguing mystery full of love, life and loss.