Men's soccer takes the pitch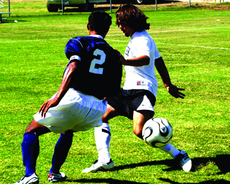 Hang on for a minute...we're trying to find some more stories you might like.
Soccer has had significant growth in America over the past decade. However, there still seems to be a level of ambiguity clouding the sport.
There are those in the media such as ESPN talk show host Jim Rome, who constantly belittle the game, labeling the sport as being slow, boring, and not physical. Besides a lack of television and news coverage, the American public does not have a broad understanding of the workings of the game.
The Mesa men's soccer team is stacked with talent, and they are slowly coming together as a team. They are coached by A.C. Toumi, who is in his second year leading the Olympians. Toumi is very passionate when it comes to soccer.
"I feel very good about this team," Toumi said. "We have the ability to move the ball in the midfield, play one and two touches, and maintain a fast pace with quick decisions."
Toumi's enthusiasm seems to be rubbing off on his team.
"Toumi is a great coach, he is extremely intelligent, and his knowledge of the game is far beyond anyone on this team," said team captain Vincent Pascual. "He expects a lot out of us and we can't always give him the perfection that he demands, but we try."
The Olympians gave a strong effort on Sept. 29 when they defeated Chaffey College at home, 2-0.
"That was the best game they have played," Dave Evans, Dean of Athletics said.
It was a fast-paced, physical game. Toumi was happy with the outcome. He was very pleased with the way his team preformed.
"I think Kasra (Sarabakhsh), our captain, had a strong day," Toumi said. "He was instrumental in midfield play, with his ball distribution and all that, he scored the first goal obviously. His run that led to the first goal was really tremendous."
Midfielders are vital when it comes to generating offense. It appears co-captain Sarabakhsh is just the player to fill that need.
"Kasra is great when orchestrating plays in midfield and setting up goal scoring opportunities," said Pascual. "He's aggressive and intelligent, and he always works hard."
Co-captain Pascual had a big game as well. Pascual, a forward, plays at the top of the offense. He is extremely fast, and was always drawing multiple defenders with his shifty ball movement. Pascual seemed to favor the left side.
The second goal of the day came on an assist from Pascual. He received the ball on the left flank and battled an opponent to send off a cross connecting with sophomore Conor Caulkett, who headed the ball in to the left corner of the net. Moments after scoring, Pascual suffered an injury from a slide tackle.
"I was trying to create space for myself and their fullback was closing in on me," Pascual said. "I took a look up and saw Conor ready for the cross, and he came straight in on my ankle."
Suffering from a third-degree strain, Pascual hopes the injury only sidelines him for a short time.
"Vinny is a really phenomenal forward for us," Toumi said. "He has a lot of speed, and a lot of knowledge. His movement off the ball is really good, and he's a good leader. He really kept the team playing within our capabilities by talking to them."
Co-captain Justin Elwell is also noted as a team leader.
"He organizes the back and has great communication," Pascual said. "He controls the back when we're on defense, and pushes us up when we're on offense."
Although the Olympians suffered a disappointing pre-season, they should certainly improve upon their 4-15 season last year. As of Oct. 5, Mesa stands at 2-6-2.
Toumi remains hopeful regarding league play.
"To be honest with you, I had higher expectations than where we are at this point," Toumi said. "Sometimes we beat ourselves. We play teams that are not at our level, and we still drop the decision to them. So it's feeling that we are not meeting the expectations that we had set, but right now, I am seeing that we are going to be a contender for the league, now that we are playing our game."