Lady Olympians are off to strong start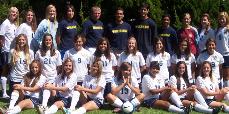 Patrick Cusick
October 1, 2007
Hang on for a minute...we're trying to find some more stories you might like.
The Mesa Women's soccer team is off to an 8-1 start after a disappointing end last season.
The team, which is currently ranked ninth in the nation, finished last year with an 18-1 record. That was quickly changed however when the Pacific Coast Conference ruled that the first five games would be forfeited due to a rule violation. That marked the first time in 12 years that the women did not make the play-offs.
"We are looking to rebound after last year," said coach Todd Curran who is heading into his tenth season. "We have a great returning core and they are determined to be at the top of the conference."
The Lady Olympians took to the field running this year, winning six games in a row. Following a tough loss against San Diego Miramar College on the road, the women came back with a nice win over San Bernardino Valley College, 2-0.
The Olympians came back home last Wednesday and defeated San Diego City College in convincing fashion, 13-0.
There is more effort this year, and everyone is very positive," said co-Captain defender Anastasia Nelson.
Nelson, who heads a solid defense, is one of eight returning players. She leads a no-nonsense group of defenders that have no problem getting physical when the time calls for it. The defense has allowed only four goals, and play tremendously as a unit. With sophomores Leilani Lamchin on defense and Crissy Lawson in goal, the Olympians have a solid last line of defense.
On the Offensive front the Olympians are led by sophomore strikers, Caslyn Wells and co-Captain Elizabeth Diaz.
"Each day we have to keep improving our game," commented Diaz. She led the team in goals last year with 20 and is clearly on her way to matching that with 10 already this season. Wells, who had nine goals last year, has a knack for the net as she already has four goals and four assists. Giving the two a breather is freshman Luauna Brinkley who has already netted five goals.
Midfielder Melanie DeSalvo is a key returning player to the middle of the field. The sophomore is second on the team in points this year with eight goals and five assists. Alongside her are sophomore Kathryn Snyder, and freshmen Talor Babyak and Emily Jenkins.
"Our goal is to make it to State," said Snyder.
The Olympians look ahead to next week as they play two pivotal games at home against Grossmont College on October 3rd and Palomar College on October 5th.