Men's hoops back to work after fires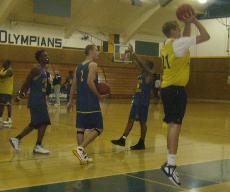 Cecilia Felix
November 13, 2007
Hang on for a minute...we're trying to find some more stories you might like.
The Olympians basketball team started off the season by competing in a tournament in Los Angeles Nov. 9-11.
On Nov. 9, Los Angeles City College defeated Mesa 68-46. On Nov. 10, the Olympians lost again, this time to Mt. San Antonio, 58-55.
The Olympians were the only team who lost a week of practice due to the wild fires. According to Mesa basketball coach, Edward Helscher, it will take them two to three weeks to get back to were they were before the fires.
"I like the group of guys we have because we have a good mixture of skills and more weapons than we've had in the past." said Helscher. "We've added a lot of size to our team."
The team has four returning key players: Dequonta "Kwonie" Webster, Lamar Thomas, Erik Smith and Chris Reed. According to Helscher, Webster "is quick, explosive and a very good player;" Thomas is " a good player and a starter with big guns;" Reed is "a lunch pail player who doesn't look for stardom." Smith is recovering from an off-season knee surgery.
The team also has players that have signed contracts to play professionally. Tommy DeMarco played for the Olympians for three years. He played in 37 games and scored 156 points just in his first two years. DeMarco now will be competing for starting point guard position for the Fighting Blue Jays for the Polytechnic University, a Division III NCAA institution in Brooklyn, NY.
Dario Ramirez signed a contract to play for the "Caballeros De Culiacan" in Culiacan, Sinaloa . Ramirez played 57 games for the Olympians. In his two years he scored 589 total points. Along with playing the sport Ramirez loves, he will also be getting a paid salary and a full-paid school tuition.
Brett Lauer signed with Division I UC Irvine. In 28 games, Lauer averaged 16.6 points, 4.3 rebounds, 3.0 assists, and 2.1 steals.
"You can't replace a guy like Brett, but with good team chemistry, we'll be fine," said Helscher.
"We have a great ability to take the ball to the hoop. We have 'players who can slash'," said, Helscher.
The Olympians first home game is Saturday, Dec. 1 against Mt. San Jacinto at 2 p.m., followed by games Dec. 7-8 in the Point Play Tournament also at Mesa, times are yet to be announced.
Team members hold a positive outlook on the season.
"If we play together as a team, we could win league," said Kwonie.