Mesa sports wrap up a disappointing spring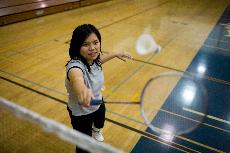 Hang on for a minute...we're trying to find some more stories you might like.
As the spring semester comes to a close, so does the 2008 sports season. The Olympians did well this season.
The men's tennis team ended the year with a record of 9-8 overall, and 8-6 during Pacific Coast Conference play. They finished fourth overall behind Grossmont College, Mount San Jacinto College, and Palomar College. James VanHess qualified for Southern California Regional in singles and doubles, and Harrison West qualified for doubles.
The softball team ended their season with an overall record of 19-21 and 6-9 in Conference play.
"We had a very competitive year and played very hard the whole season," said Coach Mary Bongard. "I am very proud of all these young ladies and how hard they worked throughout the season."
Sophomore and team captain Alyssa Casiple received PCC first team all-league selection on April 24. She was also named Athlete of the Week for February 5.
The swim team finished their season with mixed results.
On the women's side, they were 3-0 in both conference and non-conference meets. That earned them the distinction of Dual-Meet Champions.
As for the men, they wrapped up their season with a 1-2 record in the conference. Individually, PCC Co-Swimmer of the Year Sasha Beltran stood out amongst the crowd. He finished in the top 16 of the state championships for the 50 back-stroke, 100 fly and 50 fly.
"We support each other really well and that was the biggest thing we wanted to accomplish," said Coach Nathan Resch. "Once you've set up that scenario, the results individually as well as a team end up falling into place."
The badminton team finished the season 3-5. With expectations of bringing home a conference title, they were riddled with injuries and family emergencies throughout the season. None of them used that as an excuse for their poor play.
"We had really high expectations, but unfortunately team-wise we didn't do nearly as well," said Coach Sue Minnock.
Success did not elude Kim Hoang and Angel Chao, who finished as the number one doubles team.
This is the last season for Coach Minnock. She coached at Mesa for five seasons and at Serra High School for 26 years.
"I really enjoyed it a lot," said Coach Minnock as she reflected on her career. "I'm gonna really miss it. But there's a time when you have to hand it over to somebody else."
Taking the reigns next season is Assistant Coach Frank Bagongahasa. Recruiting will be a big part of what Coach Bagongahasa plans for the future.
"From the start, there's a few students that I have to get in touch with that are graduating from local high schools," said Coach Bagongahasa. "That's one of the things that I want to do. Go out here and compete and at the same time have a great time representing the Olympians."