Coaching change finalized in Women's Cross Country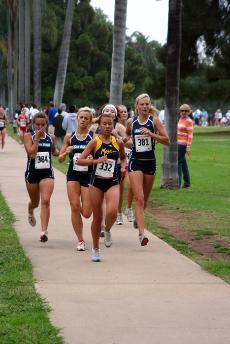 Hang on for a minute...we're trying to find some more stories you might like.
This season Mesa College will experience a fresh start due to a coaching change that was made for the fall 2008 season and beyond.
Head coach Renee Ross joins the Mesa College Athletic Department in what will be her first season as the Women's Cross-Country coach. Ross, who was previously the head Track and Field coach at Christian High School, is entering her 25 year as a coach.
Coach Ross has coached at five different high schools within the last 24 years. She comes to Mesa with many past awards and achievements.
During her four years at Christian High School, Ross coached her teams to consecutive Central League Championships in 2006 and 2007.
While coaching at Rancho Buena Vista High School, Ross experienced her most decorated years. During this tenure she led her teams to five Palomar League and Grossmont South League Championships.
Ross has earned coach of the year honors four times in her career including 1996 when she was named the California Interscholastic Federation Coach of the Year.
Athletic Director Dave Evans hopes Ross can continue her success as she attempts to spread her wisdom and knowledge within the women's cross-country program. Evans speaks highly when mentioning the newest member of his athletic department staff.
"Renee Ross brings a wealth of experience to the Mesa College Cross-Country program," replied Evans. "She has been a very successful high school coach in the area and also knows many of the high school coaches, which will help her in the recruiting. Most importantly she works very well with the student athletes, and is an outstanding teacher. She is an outstanding addition to our Athletic Program."
This season the cross-country team is young and consists of nine players, six of which are first year freshmen. Since only returning three players from last season's team, Mesa will have a lot of learning to do very quickly.
Amongst these returning players, is team Co-Captain Samantha Espindola. "Samantha is our most talented and outstanding runner," replied Coach Ross. "We expect her to have a major impact this year."
Espindola, who returns for her second season with Mesa, will have to wait until end of season competitions and post season tournaments to compete due to an early season injury.
In the meantime, look out for these other key performers as carry the burden throughout the course of the season.
Sophomore Jana Stokes will start the season as the No. 1 runner due to injury of Espindola. "Stokes is an experienced runner and great competitor. She runs smart tactical races," commented Ross.
Samantha Dunsmore, who is also a team captain, concludes the returning players. Dunsmore, a veteran force, will lobby for a position as the No. 4 runner as she continues to work hard and improve.
This year Coach Ross expects to have a successful season with her group of girls.
"As a new coach coming in late and not being able to recruit, I am pleased to see this group of hardworking, committed athletes who have shown that they will be competitive this season," replied Ross.
"It's great to have back our number one runner from last year, Samantha Espindola. Along with her we bring back two veteran athletes in Jana Stokes and Summer Dunsmore. We also have six freshmen with a lot of potential. It will be exciting to see what they do as a young team. I believe they will surprise a lot of teams."
First year runner Michelle Thompson is one of six freshman to join the nine player roster. "Michelle is an inspiring newcomer, she has the qualities to develop into a standout runner," responded Ross. Thompson is currently the No. 3 runner.
Through three meets this season, Mesa has fared well. While competing in the San Diego State Invitational, Mesa witnessed Jana Stokes place 17th out of 82 competitors, followed closely by Michelle Thompson and Samantha Dunsmore who placed 25th and 49th respectively.
In their last meet at the Orange Coast Cross-Country Classic in Costa Mesa, Mesa College once again achieved success. The Lady Olympians placed eight out of 27 teams, only one point away from seventh place.
Mesa achieved all of this without both their top runner Espindola and their number five runner Jillian Capoot. Jana Stokes placed 22nd out of 173 runners followed by Michelle Thompson who placed 26th during this event.
Bakersfield, Calif. will be the next meeting place for the Lady Olympians as they compete in the Southern California Preview on Oct. 3. The scheduled start time is 8 A.M.