Men's Water Polo Set To Make A Splash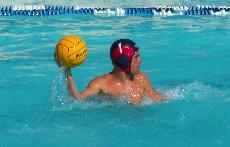 Hang on for a minute...we're trying to find some more stories you might like.
With a mix of old and new, the men's water polo team is determined to come out on top this season. Coach Nathan Resch is in his second season and is looking improve on the team's 9-13 record last season.
The Olympians have already proven they can be effective on both sides of the ball as they beat Southwestern College in the first game of a tournament hosted at Mesa. Southwestern College got the better of them last season, but the new team won in a decisive 19-9 victory. They followed up that performance with a 17-4 win over Santa Monica and a 19-8 triumph against El Camino to close out the tournament. The team is currently at a record of 8-4.
Resch has high expectations for his new team that is almost split right down the middle with returning players and freshmen. "We have a good group of solid returners who understand the system we set up last season," said Resch. "Having leadership that returns with you from year to year is an important part of continuity."
Team captain JK Barnes is back as the two-meter defender and driver. Last season the team awarded Barnes Most Valuable Defender. Outside shooter and driver Matt Siordia is also returning to the team this year along with Josh Denza who is the swim team captain.
The team is taking on the challenges of conditioning as they are put through tough training to become successful. "You can't play water polo unless you're in shape," said Resch. The Olympians got an early start when they began practicing mid-August with two-a-days. They start working on their swimming and conditioning at 6:25 a.m.
"Everybody pushes each other hard during practice," explains Resch. "They are all competitive people so they are striving to do the best they can in practice as well as in games."
The team participates in a workout called "egg-beater". For this training, two people are paired up and have a battle that can be described as a reverse tug-of-war in the pool. The two participants try and push each other across the pool in a workout that helps them work on their legs. They also work on variations of the "egg-beater" than involve wrestling and shooting the ball as well.
All the hard work of the team is for one common goal. "The guys agree that we would like to win conference and qualify for regional championships," said Resch. "I think with our talent and the attitude that everybody takes on a daily basis we will get close to that goal. We are in a competitive conference but with hard work we should be able to push through it and win."
With a mix of old and new, the men's water polo team is determined to come out on top this season. Coach Resch has the returning players that will help provide valuable leadership for his second season at Mesa College. The Olympians will compete in the Saddleback Tournament on Sept. 26-27 in Mission Viejo. Then they will head to Glendora on Oct. 3-4 for the Citrus Tournament.