Olympians school Vikings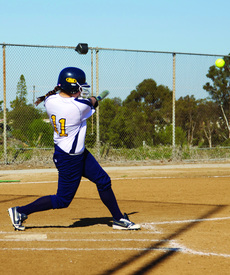 Hang on for a minute...we're trying to find some more stories you might like.
After destroying the Barstow Vikings in the first game of the Feb. 15 double header with a score of 21-2, the Olympian Softball team proved it was no fluke with a 13-0 victory in the second game.
The Olympians played this game after losing five sophomores to academic ineligibility.
They had to look to new players like freshman outfielder, Charlee McDowell, who got her first hit of her collegiate career
"[I] set my mind on the gap," said McDowell. "And kept my eye on the ball."
The Vikings pitching was erratic and lacking in fundamentals. The Olympians had to be patient and wait for a good pitch to hit. The strikes thrown from Vikings pitchers were more rare than runs they scored.
The Olympians had to adjust to the poorly thrown pitches by the Vikings.
"[You have to ]let the ball go deep, and then let it fly," said sophomore outfielder Alexis Franco.
Franco was one of the many women who scored big numbers for the Olympians commanding offense. Bianca Gonzalez also helped the Olympians, with hit 3 for 3 scored 3 runs and had 2 RBI's.
In contrast to the Vikings pitching, the Olympians were whipping the ball to pinpoint locations. In the second game, Brittany Fishtrom pitched all five innings with ease. Fishtrom had five strikeouts, two hits, and no walks. The Vikings struggled to keep up with Fishtrom's speed and at times didn't lift the bats from their shoulders.
There are two main goals the girls and coaches hope to attain this season.
"To make playoffs and for the girls to have good grades," said coach Guidi.
The one long-term goal for the Olympians is to have as many players as possible transfer to a four-year university.
The Olympians have a long season ahead of them with 19 games remaining, four of them being double headers.
"Beating City is number one," said sophomore Victoria Trujillo.
The team has had a bumpy start, but with the two wins on Feb. 15, the Olympians are looking forward to continue the winning streak and make the playoffs.
With a young team that consists of 6 sophomores and 15 freshmen, the Olympians need to
focus on playing as a team and consistently making the routine plays.
The next home game for the Olympians is against Grossmont College on Feb. 24 at 3 p.m.