SportLight: Allen Townsend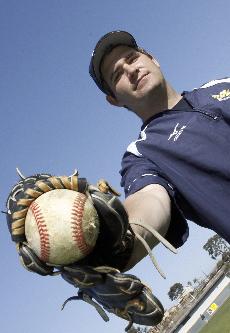 Ashton O'Halloran
February 23, 2010
Pressure is a continuously growing sensation for all the pitchers on the Mesa baseball team this year following the team's slow 0-5 start to the season.
Allen Townsend a sophomore and one of the nine pitchers who starts and closes games, and anything else his team needs of him on any given day. He has 10 strikeouts for the seven innings he has pitched over the last 5 games.
"Striking kids out on the hill [gets] my confidence is up, I know they can't hit me," said Townsend.
Townsend was raised in Mira Mesa, Calif. where his parents still live today. He graduated from Mira Mesa High School and decided to attend Mesa. Townsend's baseball story started long before high school. He participated in t-ball since the very young age of 3, and now has 17 years of the sport behind him.
Being a sophomore at Mesa, Townsend knows he has more responsibility than the freshmen.
"I have more leadership, and am expected to do more," said Townsend. "But I can handle the pressure."
Mental preparation with longevity is vital for the pitchers, with extended periods of time off the field and out of the games. They must be standing by to gear up at any moment and make a positive contribution to the game. Townsend knows dry spells can come and has his own methods to prepare for long road games.
"I listen to rap, a good beat always gets me motivated and pumped up," he said.
After the pitchers throw in a game depending on how many innings and how many pitches, they need a rest, sometimes for up to 4 days.
"Your arm can get really sore from throwing," said Townsend.
Townsend has many goals for his future include transferring to a four year institution with a baseball scholarship, and to continue on after that, pitching for the San Diego Padres in the major leagues.
"Someone has to turn that program around," said Townsend.
But more importantly team goals and personal goals for this season are in his immediate sights.
"I want to have more strikeouts than anyone," he said. "We want to win conference and go far at the state tournament."
The team started slow with a 0-5 record so far this year but Townsend is confident there will be a turn-around shortly.
"We have it figured out, and we are on the up and up," he said.
Allen Townsend and the Mesa Baseball team will play Grossmont College at Mesa on Saturday, Feb. 27 at noon.