Men's water polo starts season strong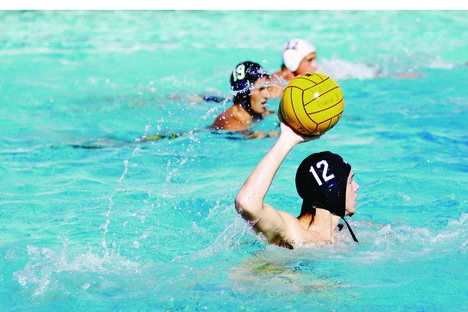 The Mesa men's water polo team is a well-oiled machine that is working its way through the beginning of the season towards many amazing victories. In their conference match-up against Southwestern Sept. 29, the Olympians won 18-8.
The team worked together and managed the clock well. Nearing the end of the fourth period, exhausted and out of breath, the team put in the extra effort for another win.
When asked about obstacles that appeared this season, head coach Nathan Resch replied, "We were faced with early illnesses, a few key injuries and bringing those players back up to speed, which took longer than expected."
It was apparent in their strategic play that sophomore captains Kelly Sullivan and Michael Aguilar are doing a wonderful job leading their team this season.
"We put it to them," said Sullivan about the win against Southwestern.
Freshman Anthony Wininger, Angel Perez and Jonathan Sensenbaugh did an incredible job of successfully covering their assigned opponent during the match.
Sophomore Tim Dahlberg and freshman Brent Koons willingly remained in the middle of the action and were constantly moving. In an attempt to keep the score locked, the goalie Rafael Bedolla held the ball in the air until the buzzer declaring the end of the game rang,
Smiles and pats were exchanged between winning teammates. Coach Resch, joined his team in celebrating their victorious success.
"Our goal as a team this year is to beat Grossmont in the conference as well as succeed at So Cal regional's to get to the state championships," said Resch.
The season opener Sept. 8 against Grossmont resulted with the Olympians triumphing 15-13. They went on to become a dominating force at the West Valley Tournament during the week of Sept. 10 – beating Cabrillo College with a score of 11-8 as well as the winning over Southwestern. It is shaping up to be an exciting year following this driven team.
With only four losses this season out of fifteen matches played, the men's water polo team is doing extremely well for themselves.
Center Josh Grall was honored with the title of "Pacific Coast Conference Men's Athlete of the week" for the week of Sept. 5-11.
"True leadership comes from within the team. Although being the coach, I know I have influence on them, it's important that the captains lead by example," said Coach Resch.
According to a www.jcwaterpolo.com "Top 10 Water Polo teams of 2010" poll, Mesa holds the ninth position. However, glancing at the list, it is apparent that Mesa leads the pack in wins with 11 on the board.