Womens Tennis shows promise in exhibition match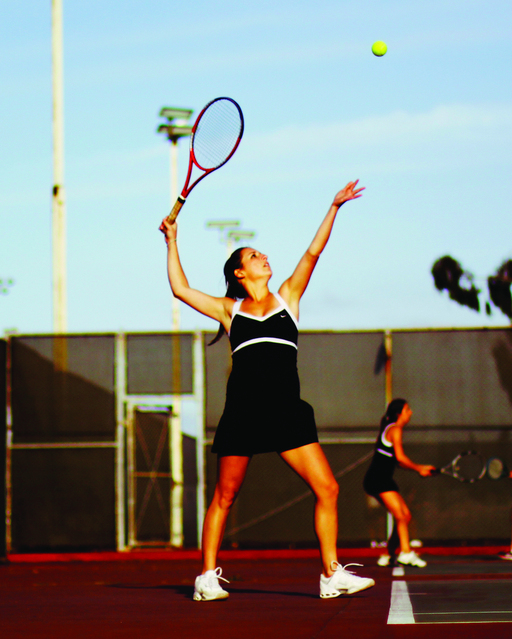 After two of four preseason games were canceled, the Mesa Women's tennis team looked to get back on track to prepare for the regular season. With only one returner from last season these preseason games are critical in evaluating this year's team.
"[We're] deep, [have a] good camaraderie, we've got three girls that could be in the number one spot," said Head Coach Patty Peisman. Assistant Coach Amy Beeman agreed that they had depth this season. If you know anything about sports, having a big team is very important.
Their first conference game is scheduled for Tuesday February 24 against Cuyamaca College in El Cajon, so that number one spot should be chosen soon.
On Thursday February 17 they had a preseason bout against Rio Hondo College.
One standout was freshman Sarah "Nina" Howard, who won here match 2-0. "I love [my team], we are all really close." Howard is extremely excited and confident for the season and hopes to do well. "I'm ready to kick butt, and we have a really good team so I think we'll do well."
This season though, the Lady Olympians will have to go through the previous conference champions in Palomar and the always-tough Grossmont College. "Match tough, we need to get Match tough, .we need to stay focused and get mentally tough," Peisman said of her team's road ahead.
In case you don't know, in a typical college tennis game, there is a set of Doubles matches and a set of singles matches, one being before the other depending on how the meeting is setup.
Scoring for womens singles matches is composed of a best of three sets, with each set consisting of a number of games, usually six. Those games, in turn, consist of points.
With a bye week the first week of March, the women continue their season with a home match against City College on March 8 and an away bout against Palomar two days later on March 10.