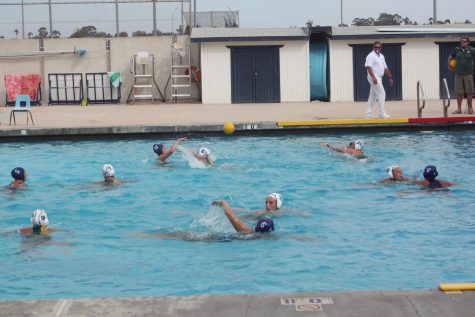 The Lady Olympians beat the Grossmont College Griffins 13-7 in a heated game on Oct. 22. One of the Olympians top scorers in the game who made the first goal, Center Imperial Espinoza. Espinoza went on to score two more goals in the duration of the game, one in the first quarter and another in the second quarter. The Griffins answered back with their first two points of the quarter, one scored by Utility Cassandra Green and the other by Driver Cami Raley. The Lady Olympians then scored another goal to tie it up to 2-2. The Griffins ended up scoring two more points in the quarter while Mesa only answered back with one.
The first to score in the second quarter was Espinoza to make the score 4-4. Soon after Attacker Ashley Greeven scored to make it 5-4. Everyone on the Mesa bench started celebrating, they hoped they could win the game. The Olympians then scored another goal this time it was scored by Utility Carly Lupien. The score at the end of the second quarter was 6-4 with Mesa in the lead.
The first goal of the third quarter was scored by Greeven for Mesa. This was her second goal out of the four she scored. Grossmont's Bea Schaefefr finally scored to bring up the score to 7-5. This was followed by two goals from Mesa and then one from Grossmont. Mesa's coach, Emma Sasson, wanted them to keep their lead and was getting frustrated when her players weren't where she wanted them to be. The referee noticed her frustration but kept paying attention to the game. Coach Sasson kept yelling at them, "No! No I want you over here!" After she was yelling at them multiple times, the referee told Sasson, "You need to back up and let them play."
The fourth quarter started with a score of 10-6, Lupien scored the first goal of the quarter for Mesa. Grossmont soon scored their first goal of the quarter to make the score 11-7. Mesa scored the last two goals in the quarter, one by Sydney Fortune and the other by Katrin Gaines. Mesa won against Grossmont 13-7.