Mesa Art Gallery portrays up and coming artists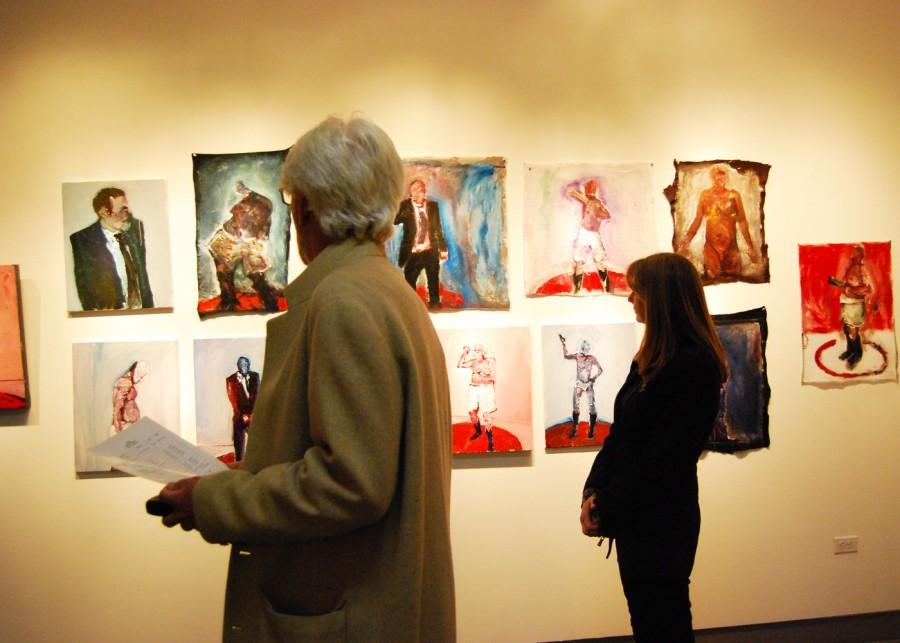 Tom Penner, Staff Writer
February 14, 2013
San Diego Mesa College welcomed Silfredo La O, Chris Warr, and Larry Caveney on Feb. 7th by displaying their work in the gallery exhibit "Dynamic Gestures."
This exhibit takes the viewer on a visual buffet of various contextual mediums, as one evaluates one piece to the next. It contains the only hands-on program of gallery management in San Diego.
Alessandra Moctezuma, the Gallery Director of the Mesa College Art Gallery and professor of museum studies, organized and led the artists' presentations.
"When you go into the gallery it feels very animated- it feels full of energy and life," Professor Moctezuma proclaims.
The artists also brought a mild comedic aspect to the gallery through video. Simply put by Moctezuma- "breaking down the preciousness, both using the idea of a male figure."
Silfredo La O got his start in dancing with painting on the back burner. Using dance as expression, he displays a beautiful work of art. With the birth of his son interfering with his travel, La O questioned his interest in becoming a painter. In order to get his art into others' hands, he mentions giving them away for free to get his foot in the door. Soon after, he went on to learn the business end of painting in order to become a more successful artist.
Chris Warr chose to present a slide show, showcasing his early work in order to show the early influences on his work.
"I'm really interested in the language of portraiture," explains Warr. "throughout our history there has been all different styles and techniques that have developed and when I was young I was unaware of these things but they started coming to me through the filter of pop culture."
Larry Caveney, who ran his own garage project promoting the work of his own and others, showed a lot of compassion and interest in other artists' work. He expressed a great interest in comic characters stating "Looking at super heroes as a way of communicating something beyond ourselves, the idea of using the figure because for most of us the idea of figure is what narrates language in our culture."
Caveney also mentions the idea of collaboration.
"If I can collaborate with these people maybe I can live with these people on a day to day basis if they understand a little more of what I'm doing with my work," says Caveney.
Overall, the gallery represented a broad look at the art world. Exploring each artist's own struggles and escapes- whether being a misunderstood sculptured portrait, a journey through dance and paint or a look at the artistic expression through comics, each artist seemed to bring people out of their average comfort zone and thus helping people to take a deeper look at what they're trying to express as well as the deeper meaning in it all.