Food Reviews – Extrodinary Desserts and Yogurt World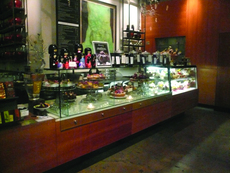 Extraordinary Desserts
There are two locations in San Diego one in Little Italy and one in Balboa Park. You can indulge on delicious cookies, scones, tarts, shortbreads, ice cream/sorbet, or delicious cakes.
Their homemade cakes are their specialties, you can purchase one slice or order an entire cake. Choices range from white chocolate cheesecake, fraisier triple berry torte, torta misu, or extraordinary carrot cake.
Also, you can purchase a list of flavored teas' that come in an adorable tea pot to drink from. The atmosphere is very colorful. They offer regular food if you are hungry for a meal.
Prices are expensive, but you do get yummy desserts. They can do personalized decoration, European ribbons, fresh flowers and candles. For more information you can log on to www.extraordinarydesserts.com
Yogurt World
Yogurt World is located in Kearny Mesa on Convoy Street. They offer tart and frozen yogurt. Tart yogurt isn't as creamy as frozen yogurt, but still tastes sweet. They have four flavors in tart green tea, mango, peach, and plain.
If you want to have frozen yogurt they offer flavors such as boysenberry, irish creme, vanilla, chocalate, and more. Everything is self-served and is priced 38 cents an ounce.
Toppings range from mochi balls, fruits, nuts, and more. You can ask for a few sample cups to taste the flavors. This place is afforable, but sometimes very crowded.
For more information you can call them at (858) 268-1688.