Mesa's Canyon Day Clean-Up Draws Support of Over 200 Volunteers
Hang on for a minute...we're trying to find some more stories you might like.
Armed with trash pickers, protective gloves, and positive attitudes, over 200 volunteers participated in Mesa's "Canyon Day Clean-Up" event in Tecolote Canyon on April 6.
The annual event, which originally started in 2007, aims to help clean up Tecolote Canyon and remove invasive species.   Since its inception, the event has continued to generate more support and had an impressive turnout this year, which included Mesa students, staff, faculty, and members of the local community.
The Canyon Day Clean-Up event was originally born out of a compromise between Mesa and the non-profit organization Friends of Tecolote Canyon, as Mesa's plans for parking expansion potentially impeded on the area surrounding the canyon.
"The college needed to expand and build more parking,"  Mesa's president Pamela Luster said, "and the folks that preserve the canyon were worried that the area would be destroyed.  They agreed to support the parking expansion if Mesa agreed to be dedicated to keeping the canyon ecologically sound."  As part of its dedication to maintaining the well-being of the canyon, Mesa also hosts a program called "Canyon Classroom," wherein local 4th and 5th graders come to the canyon for an educational experience that includes nature walks and canyon tours.
Initially, the Canyon Day event was more of an on-campus program that sought to educate students and the community about the canyon, but it ultimately evolved into a hands-on volunteer effort.
Recalling Canyon Day's beginnings, Mesa's geology professor Don Barrie stated, "The first year we actually didn't do the cleanup.  We did more of an 'enviro-fair' as part of a community event on campus, and the cleanup was only secondary."  He added, "There was so much interest in the cleanup that eventually we made that the primary focus, and I think that's proven to be very successful.  I think in some ways it benefits the community more directly by cleaning up the canyon, rather than having a bunch of booths and that sort of thing."
As the volunteers ventured into the canyon to remove an assortment of trash and makeshift homeless camps, invasive plant species were also identified and removed.
Mesa's biology professor Bill Brothers, who was also in attendance, stated that non-native plants can be detrimental to the delicate balance of the canyon.  "The problem with these invasive plants," he said, "is that they come from Mediterranean environments similar to ours, and they spread and attack the water sources from other plants."  After the invasive plants are identified, they are typically cut up and removed, where they are then taken to a landfill.
Mesa student Carlos Martinez assisted with extracting invasive pampas grass that had taken over an area of the canyon, which proved to be a challenge.  "It was really heavy and dense, and the bundle weighed at least 50 pounds," Martinez stated.  "Our goal was to destroy the plant and we had to cut it at the roots, and from there, move it away from the water source."
As the event came to a close, Luster commented, "I'm proud that we're all partners in this – the school and the community – and that we take care of the city that we live in.  If we're not going to take care of mother earth, we're in trouble."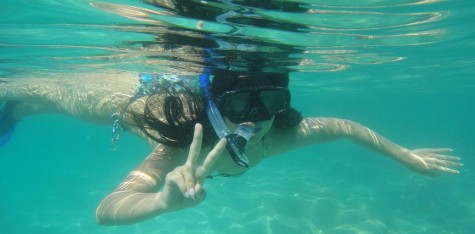 Monica Marie Dubé, Staff Writer
This is Monica's first semester writing for the Mesa Press.  She is majoring in journalism and plans to transfer to SDSU to complete her degree.  Her...