Jimmy Kimmel Test
Hang on for a minute...we're trying to find some more stories you might like.
Jimmy Kimmel Test
Television host and comedian, Jimmy Kimmel recently turned his attention on discussing a more serious note addressing Sen. of Louisiana, Bill Cassidy's rewritten form of Obamacare that went against what Cassidy initially suggested. Cassidy said that this new form of health care will past the "Jimmy Kimmel Test", which according to Kimmel's tweet is, "No family should be denied medical care, emerg or otherwise, because they can't afford it."
Jimmy Kimmel's son was born with a heart disease and had to get open heart surgery the day he was born. Kimmel initially supported Cassidy's Health care idea that suggested there will be coverage for all, no discrimination based on pre existing conditions, lower premiums for lower class families, and no lifetime caps. This new bill does none of the things the "Jimmy Kimmel Test" approves of.
A child should not be denied health care just because their parents can not afford it. Everyone should be born into this world equal and given the medical care they are in need of. The bill encourages more people to buy health care and if they can not afford it that is their own problem. States are allowed to decide whether or not to put caps on the amount of money a person can have towards their health care.
Therefor if they go over their cap, they are then denied medical care and Sen. Cassidy will be failing the "Jimmy Kimmel Test". The whole bill is going against the test and Sen. Cassidy completely lied to Kimmel on TV.
Jimmy Kimmel explains, "Senator Cassidy was on my show in May, he told me that he believed that every American family regardless of income should be able to get quality health care. And I believed he was sincere. Sadly, the bill he unveiled last week with Senator Lindsey Graham indicates that he was not sincere. It is, by many accounts, the worst health care bill yet".
The Goal is to have "quality affordable healthcare" and in order to have this a new bill needs to be made to actually pass the test. Many Senators are having a hard time passing this bill and have many issues with it.
Strong conservative Senator Mike Lee said, "The new Senate healthcare bill is substantially different from the version released last month, and it is unclear to me whether it has improved."
This new bill is far from what was Cassidy promised and could be one of the worst forms of free healthcare ever proposed.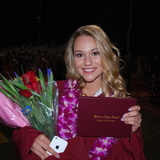 Kirsten Cesna, News writer
I am originally from Sacramento but moved to San Diego three years ago to go to school. My major is Journalism and I am hopefully going to be transferring...