Mesa college invokes and celebrates Dia De Los Muertos
The vibrant presence of Dia De Los Muertos was felt throughout Mesa College, invoking the holiday spirit which honors deceased loved ones with its first ever activity station in the LRC quad along with the annual breathtaking altar gracing the library's lobby which was handcrafted by students.
The Dia De Los Muertos celebration was organized by faculty members from the department of Languages and Chicano Studies along with the recently awarded Proyecto Exito, a five- year Hispanic Serving Institution (HSI) grant which helps develop culturally relevant courses and activities among staff and faculty to serve Latino students better.
The holiday is widely celebrated in Latin American countries and is a remembrance to friends and families that have passed on. The celebration commemorating the dearly departed begins on Nov.1 with All Saints' Day, which honors the departed children and Nov.2, All Souls' Day, a remembrance for adult souls.
"It's about the preservation of culture," says Spanish professor Dora Schoenbrun-Fernandez, whose students collaborated in the event creating the altar along with Chicano Art professor Alessandra Moctezuma. "As our world changes rapidly and moves in progression I think is important to respect and preserve many traditions, cultures and habits of the past and appreciate them for their contributions to us in the present," says Schoenbrun-Fernandez.
Some of the widely recognized decorations of this celebration are the papel picado, or banners made out of colorful tissue with intricately carved patters, multi-colored marigolds which are used to decorate and dazzle the graves. The altars built for the departed are where one can offer the deceased their favorite treats and the famous sugar skulls.
"I think it's important for them to realize we celebrate death in a certain way, you know, thorough Halloween and Hallows Eve," said Spanish professor Dr. Leticia P. Lopez who also collaborated on the activity booths. These booths promoted the importance of students learning about Dia De Los Muertos. "I think it's a very, very enriching experience to know what it's like, to know how to celebrate Hispanic culture."
This tradition that dates back to pre-Columbian era has begun to pique interest among individuals of diverse backgrounds due to the vibrant art surrounding the festivity. The altars and sugar skulls, without a doubt are one of the most notable characteristics of this holiday and have become a popular feature. According to Lopez, the sugar skulls in the activity booths ran out approximately 40 minutes into the four and a half hour event.
"A lot of times it's good to have activities 'cause people engage in activities. You're like 'Oh wait, what are you doing? I can come and make a flower? Why am I making a flower?' Well, here's why." Said the director of Proyecto Exito Monica Romero with enthusiasm. "I think it's important for our entire student body to learn about the different cultural activities of all our students."
Though the activity station was a one-day event – which according to Lopez will become an annual affair – the student-built altar that is currently sitting in the LRC lobby continues to be the main attraction until Nov.13. Visitors can expect to see the altar teeming with colorful marigolds and offerings along with pictures of notable artists, from the late comedic actor Robin Williams and the iconic songstress Selena to respected figures in the Chicano culture such as Frida Kahlo and author Gloria Anzaldua.
Though the celebration will continue to evolve along with newer generations, it will maintain its' main message to not only honor the dead, but also resurrect them through the memories while spreading a positive outlook and message on the final transition in life.
About the Writer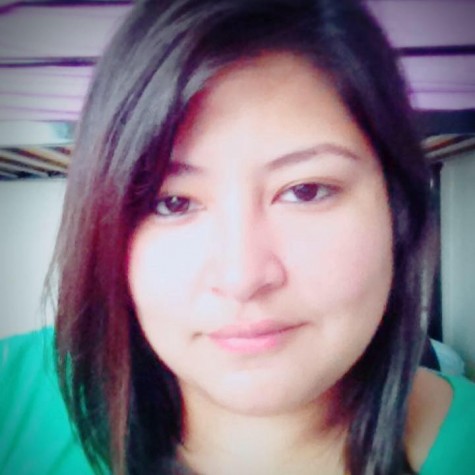 Jennifer Ovalle, Staff Writer
Hello! My name is Jennifer Ovalle and I am a staff writer for the Mesa Press. I was born and raised here in San Diego and I love coffee, music, art/entertainment...